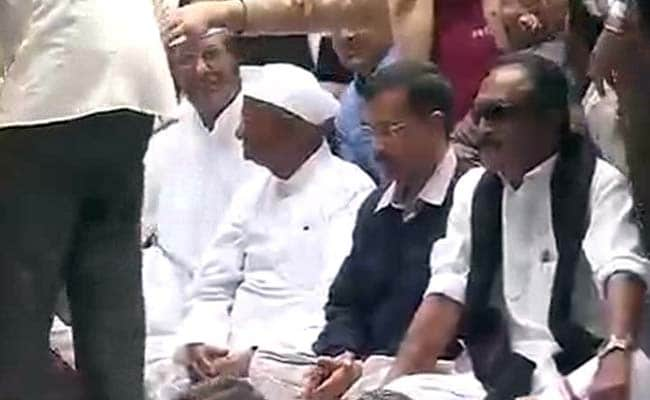 New Delhi:
Delhi Chief Minister Arvind Kejriwal led all his 66 legislators and other leaders of the Aam Aadmi Party to Jantar Mantar on Tuesday afternoon in a big show of support for activist Anna Hazare, who is leading a farmers' agitation against the Centre's land acquisition ordinance.

It's a reunion that hundreds of people have flocked to witness. Mr Hazare and Mr Kejriwal were the two most famous faces of the Lokpal movement in 2011. They later fell apart over Mr Kejriwal's decision to launch a political party.

Today, Mr Kejriwal bowed to Mr Hazare as he walked into the venue followed by leaders of his party. He later joined Anna on stage and sat next to him.

As the BJP-led central government grapples with widespread political opposition to the changes it is seeking to make in the law on land acquisition for big projects, it also has to counter Anna Hazare's protest against what he calls the "anti-farmer ordinance."

His agitation has drawn thousands of farmers from all over the country to Delhi.


The 77-year-old Anna, who is famous for hunger strikes, said today that he would not launch one this time. "No more hunger strikes for me, I will fight by living," he said, a short while before Mr Kejriwal reached Jantar Mantar.
Mr Hazare said he would spend the next four months spreading word about the ordinance and if the givernment did not scrap it, would launch a "jail bharo andolan (fill prisons campaign)" at Delhi's sprawling Ramlila Maidan, where he had sat on a humger strike in 2011 for the anti-corruption lokpal law.
It was then that Mr Kejriwal first made headlines as Mr Hazare's chief aide. The two parted ways in 2012, when Mr Kejriwal formed the Aam Aadmi Party, a move that did not win his mentor's approval.
The Delhi Chief Minister had called on the activist at the Maharashtra Sadan on Monday evening and touched his feet. They held an hour-long meeting, before Delhi minister Manish Sisodia announced that Mr Kejriwal would sit on protest with Anna Hazare today.