Guwahati:
At least four people have died in Assam over the last 24 hours, as the state still grapples with a flood that has barely shown signs of retreat over the past few days.
According to sources in the state's disaster management authority, at least four people - one each in Dalgaon, Dibrugarh, Jagiroad and Barkhetri areas have lost their lives in past 24 hours.
Over 16 lakh people have been affected and over 2.26 lakh of them are in relief camps. Around 50 people have died in Assam in over a month in the second wave of floods this year.
Flood waters have completely ravaged over 2,000 villages and the Brahmaputra is flowing above the danger mark in six districts.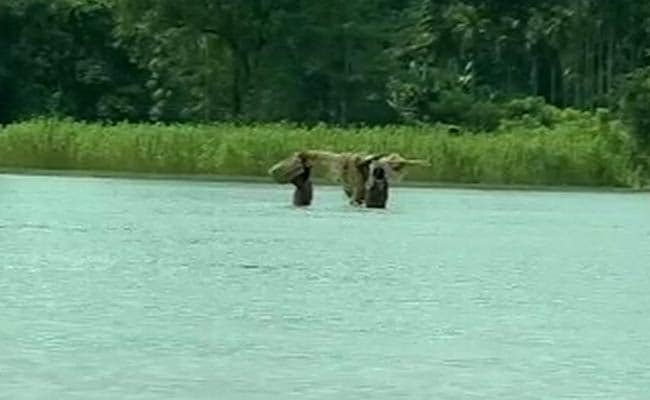 About 1.45 lakh hectares of agricultural land is under flood waters. The Assam government has opened at least 300 relief camps across the state.
One of the ill-fated villages is Naguchipathar in Barpeta district. People in the village have been moved to higher ground resorting to desperate measures such as rafts made of banana plant trunks.
For 22-year-old Rajibul Ali, bracing massive floods is nothing new. But this time he is very worried. His first child was born only few days back when flood waters were gushing into his village.
"I was in Guwahati that day. I suddenly got to know the flood waters have rushed in. I have a newborn baby. You can understand what I went through," he told NDTV.
Across the Brahmaputra valley, an alarming scale of destruction meets the eye. "For three months we are facing a series of floods. Children cannot go to school, there is hardly anything to eat, it has been a bitter battle for survival," says another flood victim Rupali Mondal.
Farming and fisheries, the main livelihood of rural Assam, have been severely hit. The victims now face the risk of water-borne diseases.