Highlights
Videos viral on social media of people bouncing 'rice balls'
Many complaints of 'plastic rice' in Hyderabad in last week
Officials have seized samples and sent them to lab for testing
Hyderabad:
Multiple videos are going viral on social media these days of people playing 'bounce the ball' with rice cooked at home.
In the last seven days in Hyderabad, there have been complaints from the Charminar area, Yousufguda, Saroornagar and Meerpet that multiple outlets are selling what is being dubbed as 'plastic rice' which is causing health problems.
Acting on these complaints, the food and civil supplies department has sent in its task force which has collected samples of cooked rice and seized stocks at grocery stores, sending them for qualitative analysis to a laboratory.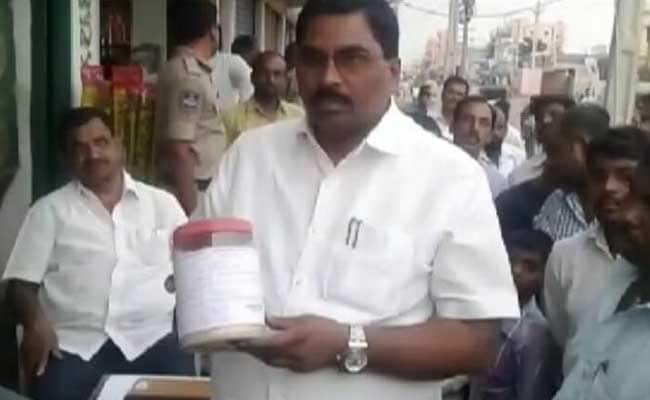 40-year-old Ashok who lives in Meerpet, says he was shocked to find the rice he was eating, when rolled into balls, would bounce like it was made out of rubber. He says his family had been complaining of ailments that the doctor could not cure for the last couple of weeks.
"The children suffered loose motions, all had gastric problems. Medicines and doctor were not able to cure as we continued to eat this. Now we have realised what is wrong," he says.
Telugu TV journalist Indrasen found the biryani that he had bought in Saroornagar, when rolled into a ball, bounced with a thud. He says when he complained, he was beaten up.
"I was alone at home. So I bought biryani and took it home for dinner. But somehow it felt different. When I rolled the biryani rice, it bounced and made a sound. I went back and complained at the shop. They attacked me," says Indrasen.
Videos that show polythene being inserted into machines from where noodle-like plastic sticks emerge, which then get cut into fine rice, have gone viral on social media claiming that it is plastic rice coming from China that has infiltrated the market. This has created a scare among the people and rumours on social media have added to the fears. But none of this has been authoritatively established. The qualitative test reports from laboratories are awaited.
Some experts point out that while rice is selling at less than 60 rs a kg, the so called plastic that is claimed to be used is more expensive at Rs 70 a kg, if not more. "So what is the logic? Why would anyone do that," asks a rice trader Ramulu.