Are you struggling to lose those extra kilos? Don't worry, just like you, there are a million others who are looking to lose weight. From fad diets to extreme workout regimes, there are many ways in which people approach towards losing weight. But, here's a secret; all of this may not work if you are not pairing it with a healthy balanced diet. According to nutritionists and health experts, a healthy balanced diet coupled with regular exercise is the most effective and sustainable way to shed belly fat. They also never fail to acknowledge the value of fruits in an ideal weight loss plan. Fruits are juicy, refreshing and delicious. They are also high in fibre, comprise natural sugars and help keep hunger pangs at bay. You should include a variety of them in your diet, but not every fruit is equal when it comes to the nutritional value. And, the best way to reap the maximum weight loss benefits from fruits is to have them seasonal, raw and fresh. Therefore, to ease your search, we have listed a few fruits that are fibre-rich, which can help boost your metabolism and aid weight loss.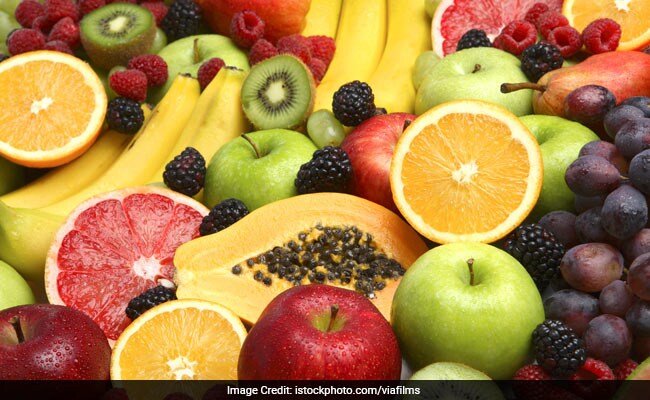 Here are 5 fibre-rich fruits that will help you lose weight in a healthy way:

Guava
If you are looking to lose some weight, then add these green, crunchy guavas to your diet and you are sorted. The fruit is packed with proteins and good quality fibre. Both protein and fibre takes little long to digest, which keeps you full for a longer duration of time and prevents you from bingeing on other fattening foods. The high fibre content of guavas helps regulate your metabolism and fulfils about 12% of your daily recommended intake of fibre, making it an excellent fruit for all your tummy woes. Guava eaten in any form aids better bowel movement and promotes digestion. A healthy digestion further promotes a healthy weight loss.
(Also Read: 6 Fruits All Women In 20's, 30's, 40's And Beyond Should Have)
According to Macrobiotic Nutritionist and Health practitioner, Shilpa Arora, "guava is a low GI fruit and does not raise blood sugar levels. Moreover, the fruit is an illustrious member of the 'negative calorie food' family." A 100-gram serving would give about 52 calories and little fat.

Raspberries
Not only do raspberries have a satisfying amount of fibre in them, but they also have a high concentration of immune-boosting vitamin C. Raspberries are a rich source of antioxidants, thanks to vitamin C. The fruit is proven to help prevent hunger pangs, protect heart, reduce inflammation and regulate blood sugar; all of these directly, or indirectly, are related to weight loss.
Health experts recommend including raspberries in our diet to boost metabolism and manage blood sugar level. You can have them alone, or toss them up in salads or blend them in smoothies. You can eat raw raspberries straight out of the carton (or from the bush) or by sprinkling them over your oatmeal. You can also buy them frozen and add them to your morning smoothie or infused water.

Apples
Apple is rich in antioxidants, fibres and vitamins, which keep you healthy, and, of course, it is a delicious treat for our taste buds. Apple's impressive fibre content makes it a favourite of nutritionists across the globe. As per United States Department of Agriculture (USDA), a medium-sized apple contains about 4.4 grams of fibre, which can alone account for 16 percent of recommended fibre intake for women and 11% for men, says Bangalore-based nutritionist Dr. Anju Sood. It is specifically abundant in pectin fibre that helps lower the body's absorption of excess dietary fats. It also keeps you full for longer. "Fibre delays digestion, which helps you keep satiated and prevents you from bingeing on other fattening and sugar-laden foods. In the long run, this aids in weight loss," says Dr. Sood.
(Also Read: 8 Incredible Health Benefits Of Apple That You May Not Have Known)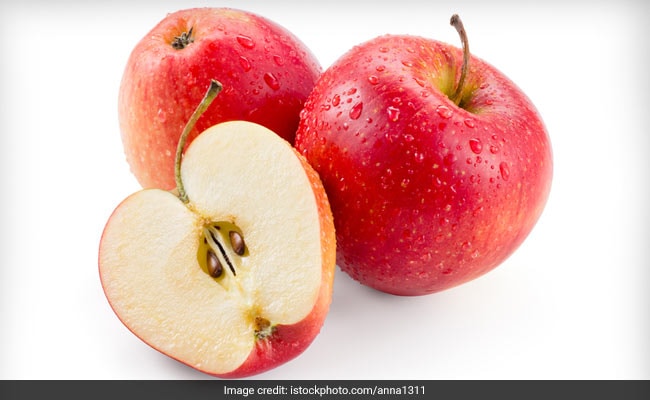 Mangoes
Aptly referred as "king of all fruits," mangoes are one of the most widely consumed fruits in the world. As per the book 'Healing Foods' by DK Publishing, mangoes are high in the antioxidant beta-carotene and vitamin C, and are good for boosting the immune system, protecting eyesight, and improves digestion. The books also notes that mangoes contain enzymes that aid the breakdown and digestion of protein and fibre, which helps in digestion and burning of additional calories, thus helping in weight loss.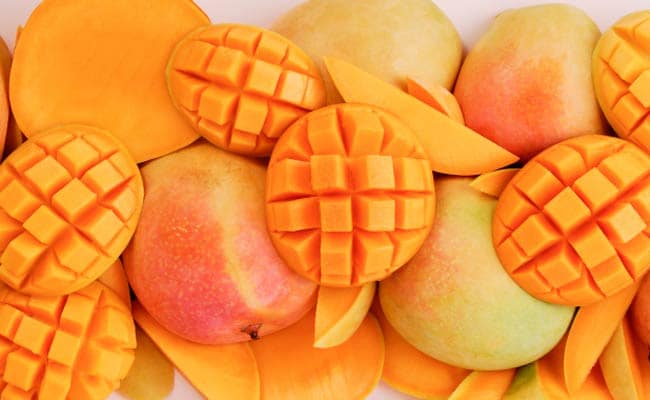 According to the United States Department of Agriculture (USDA), a 100-gm serving of mango contains 60 Kcal. Our everyday calorie intake majorly depends on our age, gender, weight and activity level. As per the USDA, everyday calorie needs for adults range from 1,600 to 3,000. One mango without the peel gives about 200 calories, which is about 10 percent of the average everyday calorie need for adults.

Strawberries
A bowlful of strawberries may prove very instrumental in shedding belly fat. The rich quantum of fibre present in strawberries helps in assisting weight loss. Fibre induces satiety, which keeps your hunger pangs at bay. Meaning, if you are full, you will consume less fattening foods. You can use them to top your cereals or even blend them in smoothies. A 100-gram serving of strawberries include 32 calories and 2 grams of fibre. So, if you are on a weight reduction diet, you need to save up on the calories you take.
(Also Read: Strawberry For Weight Loss: 5 Ways It Helps You Shed Kilos)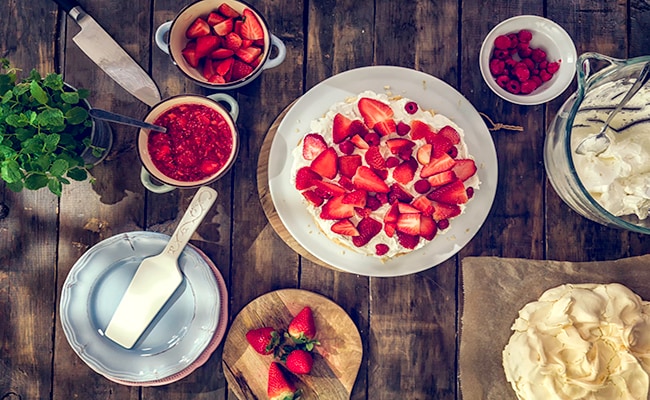 Adding these fruits in your diet may help you lose weight, but that is not enough. You have to supplement a good diet with regular physical activity to make sure you lose weight in a healthy way.