Highlights
Move over buying chocolates and surprise your loved one
Gift your loved one some homemade chocolates
Prepare small batches and immediately put in refrigerator until set
What's Valentine's Day without gifting a chocolate? And what better than making it at home for that special someone? Make your Valentine's Day special by going that extra mile for him/her! Move over buying chocolates and surprise your loved one by gifting them home-made chocolates on the big day. In fact, this idea is super quick, inexpensive and of course will make your loved one feel extremely special. If this idea hasn't crossed your mind yet, it is time you do it right away!
Here's an amazing recipe of molded chocolates with fillings by Culinary Expert and Food Blogger Chef Reetu Uday Kugaji.
Makes 25 pieces
Ingredients
Heavy Cream- Half cup
Bitter chocolate- 01 cup
Vanilla Extract- 1/4th tsp.
Semi- Sweet Chocolate, tempered- 175 gm.
Chocolate Molds of different shapes.
For the Finishing
Gold luster Dust- as required
Paint brush, small- 01
(Also read:
Valentine Weekday List 2018: Ways To Celebrate The Special Week With Food!​
)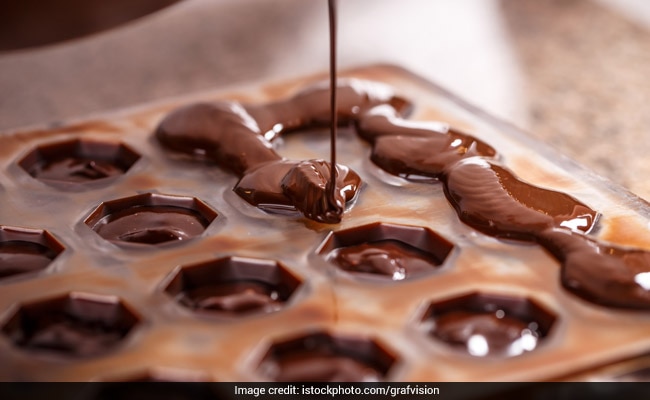 Valentine's Day 2018

Method
For the Ganache Filling
Place the chopped bittersweet chocolate in a medium bowl, and set aside. Pour the heavy cream into a small non-stick saucepan over medium heat, and bring it to a simmer.
Pour it over the chopped chocolate. Let it sit for a minute till the chocolate starts melting.
Whisk them together till very smooth, add vanilla extract. Mix well.
Cover the prepared ganache with a cling wrap.
Let it cool down at room temperature.
For the preparation of Molded Chocolates

Pour the tempered semi-sweet chocolate in the molds.
Wait about a minute, then flip the mold upside down over a parchment paper.
The excess chocolate will drip down onto the paper. Swirl it slightly to encourage the chocolate to drip down.
The chocolate on the paper can later be scraped off and re-melted to be used again.
Take a scraper and run it across the top of the mold, removing any excess chocolate from the top. This will make your finished chocolates much neater.
Place the molds in the refrigerator to quickly set it for about 10 to 15 minutes.
Spoon the ganache into the molds, filling each cavity 3/4 full. Tap the molds on the counter to release any air bubbles. Refrigerate the molds to firm up the ganache, for about 50 minutes. It needs to be firm enough so that when you put warm melted chocolate on top of it, it will hold its shape and not melt into the chocolate.
Once the ganache is chilled and firm, re-melt the coating or re-temper the chocolate and spoon some melted chocolate on top of each cavity, spreading it to the edges so the ganache is completely sealed in.
Scrape off the excess again with a scraper, until the chocolate layer is completely flat with the top of the mold.
Allow the chocolates to completely set in the refrigerator, then turn the mold upside-down and gently tap them out of the mold.
Molded chocolates are done. Store them in an airtight container in the refrigerator for up to a 7 days, but for best taste and texture, bring them to room temperature before serving.
You may paint them with gold dust and serve.
(Also read:
Valentine's Day 2018: 5 Delicious Valentine Cake Recipes
)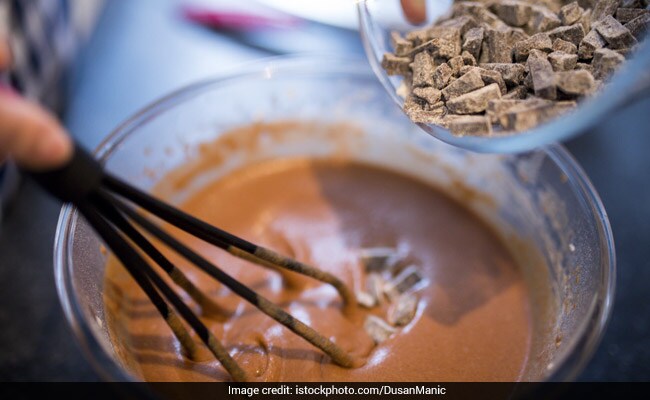 Valentine's Day 2018
Here are some important chef tips you may want to keep in mind while making these delights.
1. If these chocolates are prepared for a special occasion like valentine's day, use heart shaped chocolate molds.
2. Prepare small batches and immediately put in refrigerator until set. Do not leave the chocolates in the refrigerator for a long time. The chocolate can become too cold and will "sweat" or even crack when brought to room temperature.
3. Use gloves while handling the molded chocolate so that you don't get fingerprints on the same.
4. If the chocolate is in large quantity, then you may temper it in a chocolate melting machine or in a chocolate tempering machine. Likewise, if it is in smaller quantity then you may use a double boiler or a microwave.
5. Once melted chocolate has been tempered, it must be used before it cools and sets.

Know the Valentine Weekday List 2018 and express your love in more ways than one!

| | |
| --- | --- |
| Valentine's Week | Date |
| Rose Day | February 7, 2018 |
| Propose Day | February 8, 2018 |
| Chocolate Day | February 9, 2018 |
| Teddy Day | February 10, 2018 |
| Promise Day | February 11, 2018 |
| Hug Day | February 12, 2018 |
| Kiss Day | February 13, 2018 |
| Valentine's Day | February 14, 2018 |
Happy Valentine Day 2018!