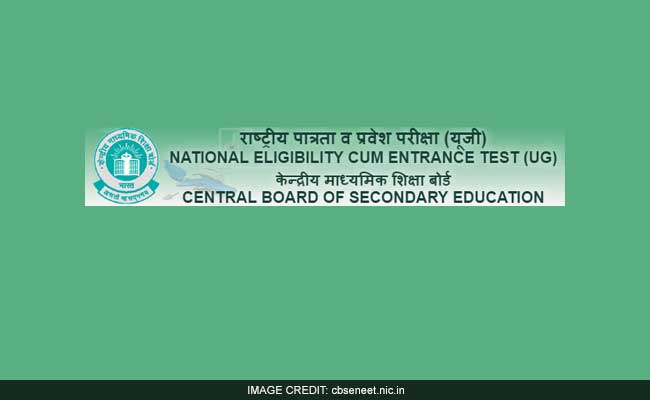 New Delhi:
After students and subject experts raised allegations on the NEET regional language question papers, the Human Resource Development ministry today sought explanation from the exam organising authority CBSE over the issue. A section of students, subject experts and West Bengal government had earlier complained that National Eligibility-cum-Entrance Test (NEET) exam question papers in regional languages were different and more difficult than that in Hindi and English.
The Central Board of Secondary Education (CBSE) conducted the NEET 2017 examination in various centres across the country on May 7.
The students appeared for NEET in regional languages have complained to HRD Minister Prakash Javadekar that the question papers were different than those in Hindi and English.
The students told Javadekar that having different question papers in different languages did not contribute to ensuring a "level-playing field", reported PTI.
On May 8, next day after the exam, West Bengal government
also alleged
that the questions in Bengali language were tougher than the ones in English. The state education minister Partha Chatterjee alleged that the questions set in Bengali were different and tougher from those set in English.
"Questions were supposed to be identical, but it was seen that the questions set in Bengali were tough. Questions set in English were easier... This will deny opportunities to the right candidates from our state," Chatterjee said at the state secretariat last week.
CBSE conducted the exam in English, Hindi and eight other regional languages.
Sankalp Charitable Trust, which is working in the field of Health and Education also wrote to the HRD minister regarding the irregularities in the NEET UG exam.
"As per the judgement of Honourable Supreme Court and the Indian Medical Council (Amendment) Act, 2016 (No. 39 of 2016 dated 4th Aug 2016), a uniform entrance examination should be conducted to all medical educational institutions at the undergraduate & postgraduate levels," said Dr. (Major) Gulshan Garg, Chairman of Sankalp in his letter to HRD Minister.
Dr. Garg also asked the minister to cancel the exam while saying 'declaration of combined result of three papers would be illegal and unconstitutional as well as amounts to the contempt of the Honourable Supreme Court'.
Telugu-medium candidates who appeared for the exam at a centre in Andhra Pradesh had also claimed that they were given question papers in Hindi and English, and not in Telugu.
"Other than paper leak which is already in media headlines, question papers of vernacular languages were 80% different from English and Hindi," said Pradeep Chaudhary, a NEET aspirant from Lucknow.
He also alleged that the translation was also absurd, like in Bengali paper 'liver' was translated as 'stomach', 'consumer' as 'producer', 'atrium' as 'artery' and 'reflection angle' as 'reflection index'.
(With Inputs from PTI)
Click here for more
Education News