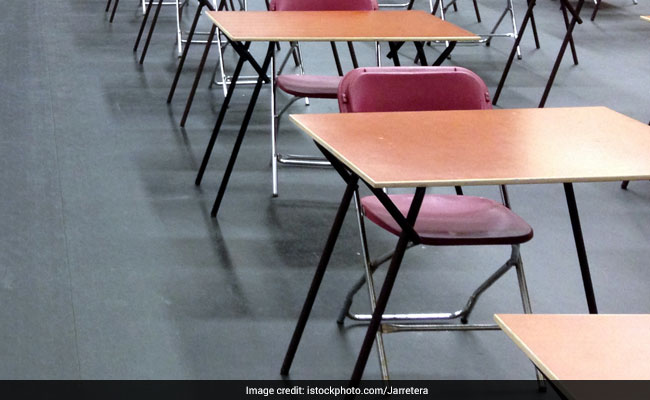 New Delhi:
According to a statement from Maharashtra State Board of Secondary and Higher Secondary Education (MSBSHSE), a total number of 17,51,353 students have registered to appear in the annual Secondary School Certificate Examination 2018. The class 12 or HSC exams have already kick started from February 21 and it will be held till March 20, 2018.
For SSC
, the exams will be conducted between March 1 and March 24, 2018. The detailed schedule for the Maharashtra board exam is available on the board's website and here.
17.51 lakh candidates will appear for SSC exams in 4657 centers across the Maharashtra.
Out of the 17,51,353 students, 9,73,134 are boys and 7,78,219 are girls.
Maharashtra Board SSC Exam: Complete Time Table Here
March 1, 2018 (First half 11:00 am to 2:00 pm) - First language
March 1, 2018 (Second half 3:00 pm to 6:00 pm) - French
March 3, 2018 (First half 11:00 am to 2:00 pm) - Second or Third Language
March 5, 2018 (First half 11:00 am to 2:00 pm) - Hindi
March 5, 2018 (First half 11:00 am to 1:00 pm) - Hindi (Composite)
March 5, 2018 (Second half 3:00 pm to 6:00 pm) - Vocational course
March 6, 2018 (First half 11:00 am to 2:00 pm) - Second or Third language
March 6, 2018 (Second half 3:00 pm to 5:00 pm) - Second or third language (composite course)
March 8, 2018 (First half 11:00 am to 2:00 pm) - English (first or third language)
March 10, 2018 (First half 11:00 am to 1:00 pm) - Mathematics Paper I (Algebra); Arithmetic (For Special Needs Divyanga Students)
March 10, 2018 (Second half 3:00 pm to 5:00 pm) - General Mathematics Paper I
March 12, 2017 (First half 11:00 am to 1:00 pm) - Mathematics Paper II (Geometry)
March 12, 2017 (Second half 3:00 pm to 5:00 pm) - General Mathematics Paper II
March 14, 2018 (First half 11:00 am to 1:00 pm) - Science and Technology Paper I;
March 14, 2018 (First half 11:00 am to 1:30 pm) - Physiology Hygiene and Home Science (For Special Needs Divyanga Students)
March 16, 2018 (First half 11:00 am to 1:00 pm) - Science and Technology Paper II
March 19, 2018 (First half 11:00 am to 1:00 pm) - Social Sciences Paper I (History and Political Science)
March 21, 2018 (First half 11:00 am to 1:00 pm) - Social Sciences Paper II (Geography and Economics)
March 22, 2018 (First half 11:00 am to 1:00 pm) - Information Communication Technology
Click here for more
Education News