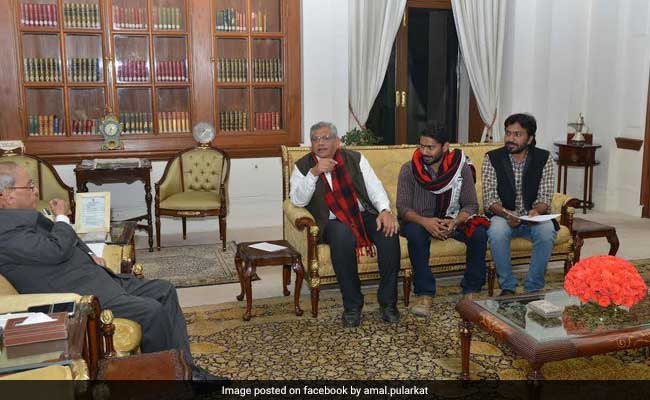 New Delhi:
Jawaharlal Nehru University filed an FIR against students who have been protesting against the seat cut in the administration block accusing them of 'wrongfully restraining the university officials from performing their duties". Meanwhile, Student Union president Mohit K Pandey and Vice President Amal Pullarkkat met President of India, Pranab Mukherjee who is also the visitor to the university on Friday evening and demanded his intervention in the ongoing issues in the campus. The students have been blockading and occupying the administrative building since February 9 and have not allowed the staff to enter the building.
In another appeal to the protesting students yesterday, the administration asked the entire JNU Community to proactively offer its good offices to convince the striking students that their mode of protest is highly undemocratic and extremely harmful to the cause of "social justice" and that the administration must be allowed to function normally.
The students who have been blockading and occupying the administrative building since February 9 last are accountable for the huge financial loss to the university and adverse impact of it on multiple stakeholders in the JNU community, said the release from the university.
'We are very happy to inform that he patiently read our memorandum and listened to our issues. We hope that as a Visitor to JNU he can intervene in our issues and find a proper solution to these issues created by the draconian UGC gazette notification.
'We also pointed out the constitutional violation of the JNU VC and the attack on social justice, campus autonomy, admission policy, seat cut, and the criminal attitude of JNU administration on the disappearance of Najeeb,' said JNUSU Vice President Amal Pullarkkat about meeting Pranab Mukherjee on the issue. Member of parliament and CPI(M) secretary Sitaram Yechury accompanied the student leaders in the meeting.
Read: More on Jawaharlal Nehru University
JNUSU has called for a protest 'Juloos' today against JNU administration's FIR on students.
Click here for more
Education News