New Delhi:
As Delhi and neighbouring Gurgaon were polling yesterday, several top politicians as well as celebrities went to vote in the sixth phase of the 2019 Lok Sabha elections. Among the star voters were President Ram Nath Kovind, Foreign Minister Sushma Swaraj and UPA Chairperson Sonia Gandhi.
Delhi Chief Minister Arvind Kejriwal, whose party has fielded candidates in all seven seats in Delhi, also voted at a polling booth in Civil Lines. Prominent candidates in Delhi are Gautam Gambhir and Manoj Tiwari of the BJP, Atishi and Raghav Chadha of the AAP, and Sheila Dixit and Ajay Maken of the Congress. Union Minister Harsh Vardhan is also seeking reelection Delhi's Chandni Chowk.
The contest in Gurgaon is mainly between sitting BJP MP Rao Inderjit Singh and Captain Ajay Singh Yadav of the Congress. Mehmood Khan of the Jannayak Janata Party-Aam Aadmi Party alliance and Virender Rana of the Indian National Lok Dal (INLD) are also in the fray.
Cricketer Virat Kohli was among the early voters who turned up at a polling booth in Gurgaon.
Even though Delhi only sends seven MPs to the 545-seat Lok Sabha, it is considered a crucial indicator to who will form the government in the Centre. It has been observed that since 1998, whichever party has got the higher number of seats in Delhi has also gone ahead to win the overall general election. In 2014, all 7 seats were won by the BJP.
Voting began at 7 am today for the 59 parliamentary constituencies going to polls across six states and one union territory. After today's voting, polling for the 2019 general elections will be complete in 483 of the total 543 Lok Sabha constituencies. The result for all 543 seats will be declared together on May 23.
Here are the highlights of the 2019 Lok Sabha elections from Delhi, and neighbouring Gurgaon:
Delhi Voting LIVE: At 111, Bachan Singh Is Delhi's Oldest Voter
111-year-old Bachan Singh is the oldest voter in Delhi, who carried a youthful enthusiasm on his way to the polling station in Tilak Vihar.
Till the assembly elections in 2015, Mr Singh used to cycle to the polling booth to cast his vote. This time however, he reached the booth in a car. He was later wheeled into the polling both using a chair.
Mr Singh suffered a paralytic attack around three months ago and has been on complete bed rest.
"I will vote for those who worked for us," he said on his way in to the polling booth.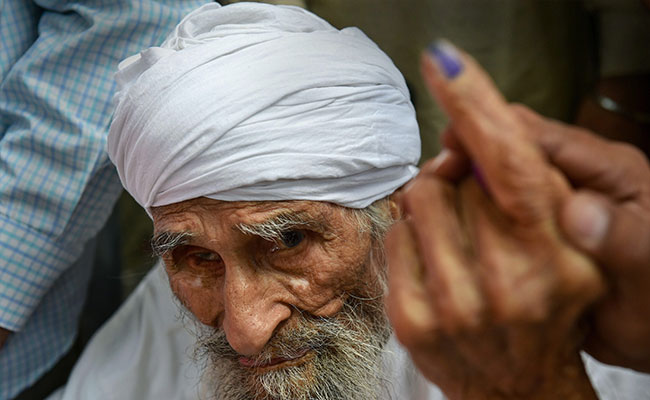 Interestingly, Mr Singh doesn't know there's a party called AAP and that Arvind Kejriwal is the chief minister of Delhi. "He doesn''t even know that the Aam Aadmi Party exists. For him, every election has been a contest between the BJP and the Congress," his youngest son, Jasbeer Singh, 63, said.
Jasbeer Singh claims his father has never missed out on an election since 1951.