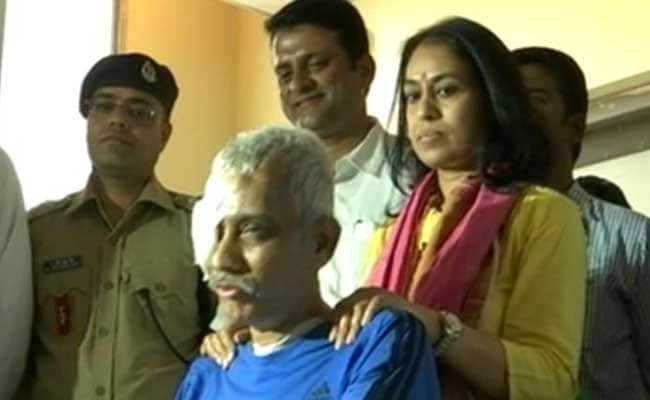 New Delhi:
There was a tip-off about the presence of terrorists at a house in Bandipora's Hajjan area. The police and the army had launched a joint search operation on February 14. Three soldiers died and 15 security personnel were injured in the cross-firing.
Central Reserve Police Force commander Chetan Kumar Cheeta was among the critically injured. He had nine bullet and high velocity missile injuries that pierced through his brain, abdomen, hands and eyes. His condition was critical, his chances of survival bleak, said doctors attending to him at AIIMS' trauma centre where he was airlifted from Base Hospital in Srinagar.
But Mr Cheeta's determination to live stunned all. After his "miraculous" recovery, the proud soldier was today discharged from AIIMS.
"I felt proud when the chief of army visited me. These are very proud moments of my life. You owe your life to the nation and when people acknowledge that it's a great thing," Mr Cheeta said while heading home.
Mr Cheeta's wife Uma Singh was with him in the air ambulance at the Srinagar Airport as he was being transferred to AIIMS in Delhi. She was shocked but she didn't lose faith. She knew he will make it through.
Daughter of an army officer, Ms Singh has known her husband since school days. "He fought this battle with death the way he fights the enemy. I was sure he would be victorious," she said.
Mr Cheeta, the 45-year-old Commanding Officer of the CRPF's 45th battalion in Kashmir Valley, was in coma for 16 days and spent a month in the ICU. He underwent the first surgery at Base Hospital in Srinagar. That was an important surgery which saved his life, said doctors at AIIMS, who later performed multiple surgeries on him.
"When he was brought to AIIMS, he was deeply comatose. He was in a bad shape, and had to be put on ventilator. His blood pressure had to be stabilised. It was a challenge for all of us to save him," said Dr Subodh Kumar, Trauma Surgery and Critical care, AIIMS.
The last two months had been tough on Ms Singh as she had to take care of their two kids and look after her husband in the hospital. But she stayed strong. "The doctors said he was in coma, but whenever I met him and held his hands, he responded by moving his fingers. In that moment, I knew he was coming back to me," she said.
She says her ultimate reward would be to see her husband back in his uniform and return to work.
Home Minister Rajnath Singh, too, wants to see Mr Cheeta back in action. He took to Twitter to praise the courage of the officer and said, "Fortune favours the brave. Extremely happy to know that Cheeta has made a miraculous recovery," the minister said.
The doctors said that Mr Cheeta would have to undergo physiotherapy and speech therapy for a few months for complete recovery.
(With inputs from PTI)