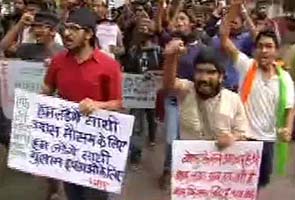 Pune:
The country's prestigious Film and Television Institute (FTII) in Pune is tense with students holding demonstrations today against student activists of the BJP who allegedly ordered them to chant slogans praising Narendra Modi at an event near their campus last week.
FTII students say that activists from the BJP's student wing, the ABVP, beat up five students for inviting activists to an event to pay tribute to Dr Narendra Dabholkar, the anti-superstition campaigner who was murdered earlier this month in Pune.
During the clash, the ABVP members allegedly demanded that other students sing Vande Mataram "to prove their loyalty to the country." When that demand was turned down, the ABVP reportedly said that students should chant, "Narendra Modi ki jai." Mr Modi, the chief minister of Gujarat, is widely expected to be declared his party's presumptive prime minister ahead of the national election due by May.
Three ABVP activists were also assaulted, allegedly by FTII students