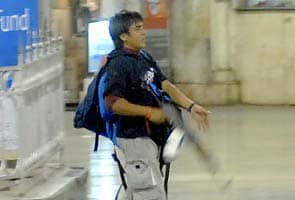 They had no special training, nor did they have any sophisticated weapons or bullet-proof vests to protect them. They were all regular policemen until the night of November 26 2008. It was merely their courage and conviction that turned them into heroes after they faced nabbed one of the terrorists alive.
While today marks the fourth anniversary of the 26/11 terror attack, it was teamwork that led to the capture of Ajmal Kasab, say police personnel. Police officials claimed that the night of the attack is still fresh in their minds and will never fade away from their memories. However, they said they were proud of the outcome and are prepared to tackle any such situation in the future.
Inspector Sanjay Gowilkar, currently with the Protection and Security Branch, said, "After receiving the news of his hanging I rejoiced just like the rest of the nation. This decision has also established the transparency of the Indian judiciary, and we have sent a message that anybody who dares to attack us will face a stern nation." Gowilkar stopped his men from fatally wounding Kasab, in order to interrogate him later. "One of the bullets fired by Kasab hit me but I still ensured that he was caught alive. That decision allowed us to interrogate him and bring several truths in front of the world."
Assistant Police Inspector, Bhaskar Kadam said, "This year will be a true celebration in the memory of those who lost their lives during the terrorist attack. We will pay homage to the police officers who laid down their lives that night at the police gymkhana on the fourth anniversary."
Police Naik Sanjay Patil said, "Souls of our senior officers and several innocent victims have finally been laid to rest. I am very happy about the decision and am grateful to our government. This anniversary is worth a huge celebration."
Police Naik Mangesh Naik said, "On Wednesday, a family friend called me to congratulate me on Kasab's hanging. I was very happy to hear about the hanging and felt that justice had been served. Though there was a four-year delay, we have proved to be a strong nation."