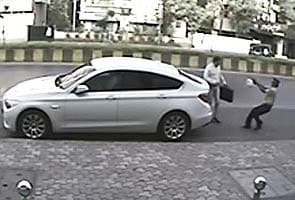 Mumbai:
Sunny Loharia, the son of builder Sunil Kumar Loharia, who was shot dead in broad daylight outside his office in Navi Mumbai, says he is receiving threat calls and messages from unknown phone numbers. The caller, Sunny claims, has threatened him with the "same fate as your father" if he talks to the media.
The Navi Mumbai Police have registered a case against unknown people and are investigating Sunny's allegation that a rival builder is involved.
Sunny says he began to getting threat messages soon after he met Maharashtra's home minister, RR Patil, who assured him that senior officers will probe his father's murder; on video, the assailant is seen shooting Mr Loharia at point blank range near his car outside his office at 8 am on Saturday.
Sunny claims that he used a "caller identifying software" to find out that the number belongs to a rival builder, who he has named in his complaint. Following up on the complaint, the police questioned the rival and two other builders and a prominent architect yesterday.
Mr Loharia's family alleges that he was killed because he had "exposed" how some builders had forged documents to get extra space in 600 buildings in Navi Mumbai to build more floors.
"My father exposed the scam and that was the trigger behind his murder. It not a case of personal enmity but a case of vendetta killing.
Some builders were upset by the work done by my father and therefore he was killed in cold blood," alleges Sunny.
The murder has brought focus back on a larger question: has the alleged builder-mafia nexus that is said to have powered the real estate business in Mumbai for many years now, spilled over to the satellite city of Navi Mumbai, where real estate is booming now?
There have been more murders recently that indicate the possibility. Last week, a clerk in the Land department of the City and Industrial Development Corporation (CIDCO) was stabbed 42 times by a real estate and his associates for allegedly demanding bribes to clear a file.
In March 2011, an engineer was allegedly shot thrice in the Vashi-based site office of Nalin Shah, a well-known developer, allegedly by members of the Ravi Pujari gang. The same gang was accused of having shot at builder Manoj Prajapati's office in December 2010.