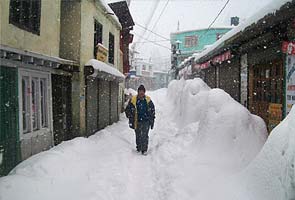 Jammu:
Almost all mountainous parts of the Jammu region remained cut-off on Tuesday due to heavy snow and rain.
The 100-km stretch between Patnitop and Banihal has over a dozen road blockades caused by snow, landslides and shooting stones.
"We have given food and shelter to stranded passengers who could be reached while we are trying to access those who are cut off," Deputy Inspector General of Police (Doda-Ramban range) Gareeb Das said.
Hundreds of load carriers and passenger vehicles were also stranded for a third consecutive day on the Jammu-Srinagar highway.
"We are trying our best to coordinate with Border Roads Organisation to clear the road but heavy rains and snow are hampering clearance work," Das said.
Mountainous areas such as Kishtwar, Doda, Poonch, Rajouri, Bani and Bhaderwah were cut off due to road closure caused by massive landslides and shooting stones, police said.
Even telecommunication links and electricity supply in Jammu region have been disrupted.
The plains, too, witnessed hailstorms. The Met Office said the weather would improve by Wednesday.
There are about 200 people stranded at Jammu bus stand due to closure of the Jammu-Srinagar highway.
Shoukat Ali, 35, was on his way from Delhi to Srinagar to attend to his mother, who is unwell.
"Now I'm held up in Jammu and am worried about her."
Imtiaz Ahmad was stranded at the bus stand with his wife and three children. "I'm left with just Rs.200 and I don't know what to do," he said.
The stranded passengers also complained about eateries and teashops over-charging.