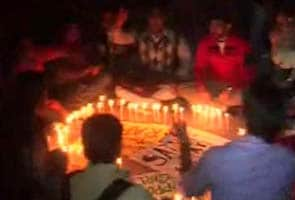 New Delhi:
After being gang-raped and attacked with an iron rod on a bus, she was pushed out onto the road with the friend who had tried to defend her.
Multiple surgeries later - the last of which was performed yesterday - she is determined not to give up, said doctors attending to the woman who has galvanized India into protests and rallies, demanding expeditious justice for her, and an over-hauling of the protection offered to women in cities everywhere.
The 23-year-old medical student, still on ventilator support, is showing "remarkable fighting spirit," said Dr BD Ashthani, the Medical Superintendent of Safdarjung Hospital. Yesterday, in a major operation, infected parts of her small intestine were removed.
"Her basic parameters like Blood Pressure, pulse rate are stable...Kidneys, respiratory, brain functions are all right...We hope she will withstand this critical period...In spite of the assault, she remained alert...communicated to emergency team despite severe injuries," said Dr Asthani.
Before her operation yesterday, she reportedly scribbled messages that she shared with her brother and mother.
In different parts of Delhi, large groups of people protested, demanding a swift trial in this case, harsher punishment for sexual crimes, and more police patrolling on the streets at night, the different demands coalesced around the agreement that things must change.
The police and the Home Minister admitted there are large parts of Delhi that are poorly-lit at night, that more police vans and patrols are needed to guard them, that vehicles with tinted windows have been allowed on the roads in violation of the law.
Yesterday, the Delhi High Court sanctioned five fast-track courts to handle rape cases, an attempt to ensure that trials do not stretch endlessly, substantiating the perception that those who assault women often manage to get away with it.