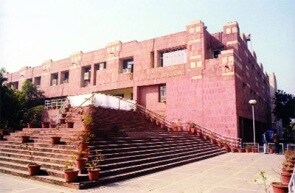 New Delhi:
The porn clip that surfaced at Delhi's Jawaharlal Nehru University (JNU) has forced the administration to undertake some drastic measures. Some of them are not finding favour with students.
Student associations in the varsity held a protest on Monday in front of the Administrative Block condemning an official circular by the JNU administration on banning the entry of girls to boys' hostel after 10.30 p.m. following the MMS episode.
A two-and-a-half-hour demonstration had a huge gathering of students from All India Students Association (AISA), Students Federation of India (SFI) and Youth for Equality (YFE) shouting slogans like 'Moral policing down down', 'JNU
mei khap panchayat nahi chalega
' etc.
Student leaders demanded the immediate withdrawal of the circular issued by Chief Proctor's office. According to the JNU Hostel Rule Book which never came into effect, claim the students, the circular enforced three basic rules to be implemented. No non-residents (JNU) will be allowed inside the hostel after 10.30 p.m. Girls will not be allowed in boys' hostel after 10.30 p.m. and boys will not be allowed in girls' hostel at any time, apart from public meetings.
A delegation of the protesting students went to the Chief Proctor's office where they had a long series of negotiations with the Proctor and the Registrar for retracting the implementation of the orders mentioned in the circular.
"If these rules were never in effect, why implement them now just after the MMS clip scandal? This is a barbaric way of dealing with an issue. We won't let this happen," said Vismay Bose, vice-president, AISA. The administration had to finally take back the orders.
"There was a lot of pressure on us. We had to apply the rules after this MMS thing happened. The students, however, are not in favour of it and say they won't follow the rules, in which case we have to withdraw the circular," said a senior administration official.
After expelling two of its students and rusticating another for their involvement in making a pornographic MMS, Jawaharlal Nehru University on Saturday told them to leave the campus terming their reply to the show cause notice unsatisfactory.
The boy in the MMS clip, Janardan Kumar of School of Languages, was missing from Tapti Hostel room.