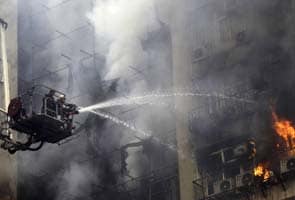 New Delhi:
A security guard was killed in a major fire that broke out in Himalaya House, a the multi-storeyed building housing several commercial establishments, in the heart of the capital this morning. Police have filed a case of negligence causing death against unknown persons.
The blaze was reported from the 15-storey building, which is around 50 metres high, on KG Marg near Connaught Place at around 6:20 am. 32 fire tenders were rushed to the spot to douse the fire. The deceased has been identified as Jai Bhagwan, who succumbed to his injuries at the hospital.
"Bhagwan was found on the seventh floor of the building and rushed to the hospital. The fire started at 6.20 a.m. and is now completely doused," a fire officer said.
Another guard Shiv Kumar was rescued from the sixth floor while Raj Kumar was rescued from the 11th floor.
"There were 12 firefighting systems in the building. We are not sure whether they were working," Chief Fire Officer AK Sharma said.
The fire broke out in the third floor of the building and spread to the fourth, fifth, sixth, seventh and eighth floor soon. The blaze was brought under control a little after noon and the cooling process was on.
Thick plumes of smoke were billowing out of the building and rescue workers were working hard to douse the fire which broke out apparently due to an electrical fault.
Police and fire brigade officials said they were yet to ascertain the cause of the blaze though they suspected it to be due to a short circuit.
"The cause of the fire is yet to be ascertained. There seem to be lapses in the fire safety measures in the building," Mr Sharma said, adding that it appeared that extensive renovation was going on in the building.
"The thrust of the fire was mainly on the 4th, 5th and 6th floors of the building. Cables were lying on the 7th and 9th floors of the building. There was plywood lying around. Rooms were under renovation.
"There was synthetic material also. It was the reason for the fire spreading quickly. Fire spread from one floor to another quickly through an electrical shaft," he said.
"Five floors were gutted. The loss is estimated to run into crores of rupees," a fire official said.
Kasturba Gandhi Marg, next to the capital's shopping centre Connaught Place, is part of an office hub in the heart of the capital with several high-rise buildings.
The American Center and the British Council are among the buildings that line the road.
The road was barricaded and people from nearby buildings were evacuated as a safety measure.