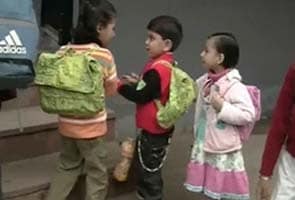 New Delhi:
Ongoing nursery admissions for this year will not be held up. The Delhi High Court has dismissed a petition challenging the state government's notification that gives powers to unaided private schools to formulate their own criteria for admission to nursery.
But, while it refused to stall admissions or intervene in the way city schools currently grant admissions at the entry level, the High Court did observe today that Right to Education must apply to all children and that state governments must ensure that right. "Civil institutions are supposed to protect the rights of children. Education is the very foundation of true citizenship and should be available to all," the court observed.
In Delhi - as in other metros like Mumbai and Bangalore - nursery admissions have become a time of great stress for parents trying to get their children admitted to the more popular schools. The public interest litigation that the High Court dismissed today highlighted the travails of parents subjected to rules framed by private schools for entry-level admissions.
The PIL had contended that nursery admission rules framed by schools favour children on criteria like them being siblings of those already studying in the school or children of alumni, which, it contended, discriminates against other children and denies them the right to education.
It also alleged that two notices issued by the Centre in 2010 and then by the Delhi government, gave "a totally free hand to all unaided recognised private schools to formulate their own nursery admission criteria based on categorisation of children."
The Centre argued in court that the Right to Education Act provides for "free and compulsory elementary education" for children aged between 6 and 14 years and that state governments are free to make "rules" for pre-school education for children below six years.
The petitioners said this negates the RTE since seats are filled at the entry level and no seats are left for children at the six plus age in the higher classes.
The High Court said today that it was time the government considered covering children below six years of age under the Right to Education Act for nursery classes as well.