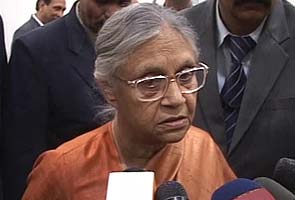 With an eye to the Delhi assembly elections scheduled for later this year, Chief Minister Sheila Dikshit on Wednesday presented a Rs.37,450 crore budget for 2013-14 fiscal with no fresh taxes.
The budget allots Rs.16,000 crore for plan expenditure, Rs.21,000 crore for non-plan expenditure, and Rs.450 crore for centrally sponsored schemes.
It exempts from taxes organic gulal, chilly spray for self-defence, rock salt, singara (water-chestnut) and kuttu (buck-wheat) flour.
Stating that the national capital has seen "phenomenal" and "unprecedented" development, Sheila Dikshit said Delhi has registered 9 per cent growth rate against the national average of 5 per cent.
"We have taken path-breaking initiatives. Six new universities were established in Delhi. We have increased the capacities of hospitals from about 24,025 to about 43,500 while other facilities have also been improved," she said.