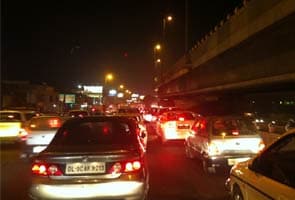 New Delhi:
Traffic came to a crawl on the Delhi-Gurgaon Expressway on Friday night as a number of weddings had been organised in farmhouses converted to marriage venues along the highway. An estimated 30,000 weddings were performed in Delhi-NCR last night. (
See pics
)
Thousands travelling on the busy and crucial link between Delhi and its suburb had to spend over an hour to travel a distance just a few kilometres. The situation was particularly bad between Palam crossing till Rajokri. It reportedly took at least an hour to travel from South Extension in south Delhi to Terminal 1 of the Indira Gandhi Airport.
Micro-blogging site Twitter was abuzz with tweets on the jams.
"Seems whole Gurgaon & Delhi are hosting wedding... Barat Traffic Jam all over," a tweet said.
"Delhi traffic is mad today. Guess the venue for those 30k weddings has been changed from Mumbai to Delhi :( (sic)" tweeted another.
The Delhi-Gurgaon Expressway has been in controversy with notorious traffic jams especially at the toll plaza on the border. The Punjab and Haryana High Court had recently suspended toll collections temporarily to improve traffic flow.
The Expressway serves as the main link between the capital and Rajasthan, Mumbai and other cities like Ahmedabad.
Unchecked conversion of farmland into massive marriage venues along the national highway without proper parking and access, especially within the National Capital Region (NCR), have turned commuting on the highway a nightmare.
While traffic police were out to try and guide traffic, the sheer number of cars heading to the marriage venues resulted in bumper-to-bumper traffic for kilometres. With the marriage season on, more such scenes are expected unless the authorities crack down on the venues in larges public interest.