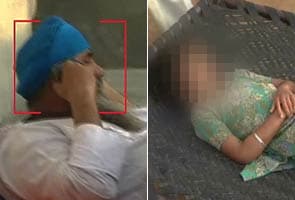 Amritsar:
In a shocking case, a minor girl was beaten to death, allegedly by Sukhdev Singh, a
Dera Sewadar
(religious worker), in an Amritsar village on Saturday.
The girl was brought from Maharashtra about 10 months ago and was and held captive here by the baba.
A few days ago, she managed to escape and told villagers how she was tortured.
"Baba bought me from Nanded in Maharashtra a few months back. He treated me very badly. I worked for him at
Dera
and if I go back to him he will kill me," said the girl.
But the villagers did not take the matter seriously and the girl was sent back to the
Dera
. Hours after she narrated her ordeal, the 8-year-old was found dead, allegedly beaten to death by Sukhdev Singh.
The village panchayat met and decided to call the police, but the baba intervened promising he would take good care of the girl.
But hours later, her body was found at the baba's house; he and his wife are now on the run.
"We tried our best to ensure that she stays fine. The baba said sorry and we thought it would be okay now. We even informed the police but nothing really happened. Whatever happened was not right," said Swarn Singh, the village elder.
Villagers allege the police tried to shield the baba by registering a case of suicide. But after they intervened, a murder case was lodged.
"We are waiting for post-mortem report. We are investigating the matter and also looking for the baba who is absconding," said Bazz Singh, SHO, Chohla Sahib.
The action in this case has been too little too late. Had the police and villagers acted swiftly, the girl could have been saved.