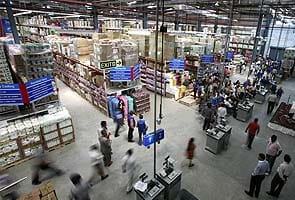 Delhi:
Delhi's plan of being one of the first cities in the country where a multinational retail giant could open its doors to the public may have to wait just a bit. Today, the Delhi government defended its decision to introduce Foreign Direct Investment in retail in the city.
While adding that "FDI did not mean Wal-Mart," Delhi Chief Minister Sheila Dikshit told NDTV that the government was studying the provisions of the FDI policy closely to ensure a smooth and proper implementation of the policy. Currently, the sale of vegetables and fruits in the city is governed by the Agricultural Produce Marketing Committee (APMC) Act and the Shops and Establishments Act, which mandate that retailers in the city have to purchase fresh produce from the wholesale dealers.
The government plans amendments to the act to make it possible for farmers to directly sell to retailers or even open their own outlets in the capital. With the current winter session on the Delhi assembly concluding at the end of the week, amendments to the act are unlikely. However, officials in the government insist that they are working on the amendments and still hope to make the record of being the first city to open its gates to the big giant retailers.