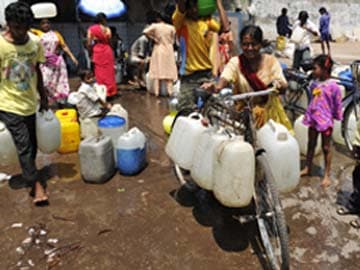 New Delhi:
To ensure transparency in water tanker services, the Delhi Jal Board (DJB) has uploaded the schedule of its water tankers delivering water at predetermined fixed points on its website.
The step was taken after the direction of Chief Minister Arvind Kejriwal and based on the inputs given by the Task Force, a statement released by Delhi Jal Board said today.
"DJB is working towards improving the water distribution services through its fleet of water tankers. The schedule of DJB tankers for delivery of water at predetermined fixed points has already been uploaded on the DJB website.
"This is an important step to improve the tanker services by the Delhi Jal Board by introducing transparency and bringing in predictability," the statement said.
DJB supplies potable water in water deficit areas through a fleet of around 800 departmental and hired water tankers, in 22 divisions/zones of DJB. So far, water tanker schedule for 20 divisions/zones has been uploaded while the rest is in process.
The schedule details the fixed points of water distribution, the time of delivery of the services, including the complaint number.
This will create awareness of the tanker services and bring transparency in its delivery to the DJB consumers.
In case of non-delivery of the water tanker service, consumers may lodge a complaint on the complaint numbers provided on the DJB website.
Almost half of these tankers are GPS-enabled, which enables in tracking the real-time movement and location of these tankers, thereby, improving the distribution efficiency and increasing the transparency and reliability of DJB's services, the statement said.
The Executive Engineer of the division/zone will personally monitor that the schedule uploaded on the website is strictly adhered to. In case of any deviation from the schedule, the matter will be reported to the Superintending Engineer.
A weekly and fortnightly compilation of all such deviations will be reviewed at the level of Superintending Engineer and Chief Engineer concerned, respectively, and the monthly report will be sent through the Member (Water Supply) to the office of the CEO, DJB.
All the Executive Engineers of the respective areas have been directed to share this information with the local RWAs after the schedules are frozen to ensure that every consumer has the correct information to manage their water requirements.
The fixed points for distribution can be modified in consultation with the RWAs, as and when required. This will ensure that there is improvement in the distribution of DJB's water services.
The entire system of operation will be reviewed by the Task Force constituted under the chairmanship of the Additional CEO, DJB, and the status report will be submitted to the CEO, DJB, on the third working day of each month.
The Task Force has also been directed to devise objective parameters to measure the efficiency of the operation and the level of service satisfaction.