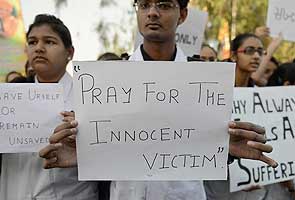 New Delhi:
23-year-old medical student 'Amanat' (NOT her real name), who was brutally gang-raped by six men on a moving bus, walked a few steps on Saturday night, but was back on the ventilator on Sunday and doctors said they were concerned about infection in her body and falling platelet levels.
Doctors at Safdarjung Hospital said Amanat's condition is serious, but she is conscious. She is being given heavy antibiotics to fight the infection.
Doctors said Amanat developed breathing problems on Sunday morning. She had vomited on Saturday night.
In regular medical updates during the day, doctors expressed concern at her condition. A minor operation was performed on her at 3 pm and doctors said she might need more surgeries. Her blood pressure, pulse rate and urine output are normal and the white blood cell count is not a major concern either, doctors said.
But, the platelet count has fallen to 19,000 per microlitre - an indication of infection in her blood - and four bottles of plasma were administered.
Doctors treating her have repeatedly praised what they call the fighting spirit and will to survive of the young woman, who was left grievously injured in the brutal attack on her last Sunday.
A doctor said on Sunday, "I have never seen a girl like her. Anyone else in her state would have been sedated, but she has this amazing will to survive. She keeps saying, 'I wanna try and sit, make me stand'. We are amazed by her strength."
On Saturday, Amanat met her male friend, who was with her and was also attacked on the bus on the night of December 16, in hospital, her friend's brother and the police said on Saturday. "She is getting strength and moral support after meeting her friend. We asked her friend to meet her regularly, which will help in her recovery," said Deputy Commissioner of Police Chhaya Sharma.
(With inputs from agencies)