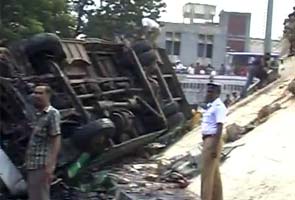 Chennai:
About 30 passengers were injured, one seriously, when a bus, number 17-M, fell off the Anna Gemini flyover in the heart of Chennai. Police are trying to ascertain whether the driver was over speeding and lost control of the bus as he negotiated a bend on the flyover this afternoon. They are also checking call records to find out if he was using a mobile phone while driving, as alleged by some passengers.
There were about 60 passengers in the bus. No casualty has been reported - the one person seriously hurt has multiple rib injuries. Most of the others had minor injuries and have been discharged from hospital.
The bus was travelling from Broadway to Vada Palani and was on the big flyover near the US embassy and on the city's arterial Mount Road, when it crashed through a wall and tumbled down about 12 to 14 feet. The accident happened in the afternoon, which is fortunately not peak traffic hour. So no vehicles were driving down fast where the bus fell and, eyewitnesses say, a catastrophe was averted.
The city police acted swiftly. The Police Commissioner JK Tripathy and other officers reached the spot within minutes and ensured that people were taken off the bus and taken to hospital. Shanmugharajeshwaran, Joint Commissioner Of Police - South Chennai, said, "There was no delay in getting first aid for the injured."
One of the passengers said, "the bus should have slowed down near the curve but the driver was speeding."
The bus lay on its side with shattered glass all around and diesel was quickly drained out to avert a possible explosion. What took the police time was dispersing the large number of curious onlookers who had gathered at the site. Their presence hampered efforts to remove the bus. It was later removed from the spot.
Traffic around the flyover came to a halt for a while and there were reports of jams and chaos. Vehicles were stranded on either side for some time, but traffic was soon diverted smoothly and is now back to normal.