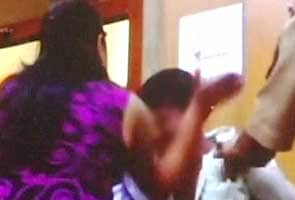 Mumbai:
When a 23-year-old nurse accidentally encountered the man accused of trying to rape and murder her on a local train in Mumbai, she could not contain her rage.
For around three minutes, at the police station handling her case, with at least three constables watching, she slapped the suspect repeatedly on his face.
Two constables held him through the assault, which was filmed on a mobile camera.
The incident took place last week when the man was being brought back to the police station after a medical examination.
"No one is supposed to take the law in their hands. But when a crime like this happens with a girl, we cannot expect her to talk nicely and ask the accused, 'Sir why did you do this to me?' It was a spontaneous reaction. If it was your or my sister even we would be angry. That is the natural reaction which is why she reacted in this manner and not with an intention to commit an offence," said Rajendra Trivedi, Senior Police Inspector at the Mumbai Central Railway Police Station.
On July 27, Devraj Kanap was arrested on charges of molestation and attempt to murder.
The brother of the attacked woman told reporters, "She caught a train at 5:45 am. A man suddenly entered the ladies compartment, and he tried to rape her. There was no guard at that time inside the compartment when the incident took place. My sister shouted for help and the offender was caught by co-passengers and policemen at the Lower Parel station."
There was no policeman in the compartment which is the norm for all trains that run at night and early in the morning. The police claim the constable missed the train and have booked him for dereliction of duty.