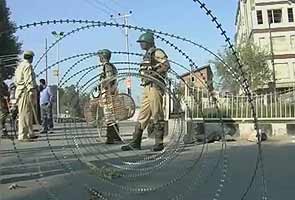 Srinagar:
In the wake of the protests over an anti-Islam film gaining momentum, Internet and mobile phone services have been suspended in Kashmir. Yesterday, the state government had directed internet and telecom service providers to take all measures to ensure that the controversial film that mocks the Prophet Mohammad is not accessible to subscribers.
Angered by the film, protesters clashed with the police at several places in the valley today. At one place, police had to resort to tear gas shells to disperse women protesters. As a precautionary measure, curfew-like restrictions have been enforced in five police station areas of Srinagar. All educational institutions in the valley remained closed for the day.
In an order issued yesterday, the state Home Department invoked the powers conferred under section 5(2) of the Indian Telegraph Act 1885.
"In the interest of public safety and for maintaining public order, the government directs all licensed Telecom Service Providers and Internet Service Providers to make arrangements to ensure that their subscribers in Jammu and Kashmir should not be able to download or upload the contents with regard to the video," the order said.
The order also stated that sites like Facebook and YouTube could be blocked if needed.
"If necessary, due to technical reasons, the Fully Qualified Domain Names shall be blocked viz www.youtube.com, www.facebook.com etc.
"They shall also ensure that the bulk mails that are being generated from their subscribers do not contain this file/versions of this file and the content and in case of suspicion (or) detection, the same shall be blocked and filtered," it added.
The anti-Islam film that mocks the Prophet Mohammad has triggered protests in large parts of the world. More than 80 people were arrested in Chennai last week after an attack on the US consulate in the city during a demonstration against the film. Security has been reinforced at the US embassy in New Delhi and consulates and diplomatic interests in other Indian cities as a precaution against possible protests.
The movie was made in California. US federal authorities have questioned the man believed to be behind the film.
The protests first began in Libya earlier this month, where protesters stormed the US consulate in Benghazi, killing American Ambassador Chris Stevens and three other Americans. There were similar attacks on US embassies in Egypt and Yemen. In Pakistan, protesters have been demonstrating in more than a dozen cities.
(With Inputs from Agencies)