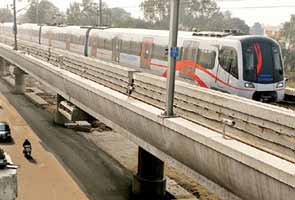 New Delhi:
Delhi's showcase Airport Metro Express Corridor will undergo a two-day mandatory safety inspection by the Commissioner of Metro Rail Safety (CMRS) beginning on Tuesday.
The 23-km corridor connecting the city's business centre of Connaught Place with the Terminal-3 of the Indira Gandhi International Airport was shut down in July last year after cracks were found in the civil structure.
The line connects Connaught Place (CP) with the airport in 20 minutes.
After undergoing extensive repairs for the past six months, the high-speed corridor is now ready for inspection by the CMRS whose green signal is necessary for resumption of services.
CMRS RK Kardam would carry out the inspection for two days from Tuesday.
The inspection has been pending for a few weeks since the Delhi Metro sent in a request in November seeking an inspection of the line.
Once the line is cleared by Kardam, the operator Reliance Infrastructure would start services within a couple of days, Delhi Metro sources said.
The high-speed corridor underwent extensive repair on girders and other civil structure after the operator complained of defects.
Ever since, the Delhi Metro and Reliance Infra have been at loggerheads with the private operator even expressing its desire to pull out.
However, Urban Development Ministry, the nodal ministry, stepped in and referred it for arbitration.