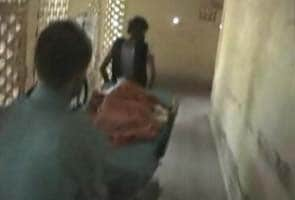 New Delhi:
After large protests by her family and others, a five-year-old who was kept hostage and raped, allegedly by her neighbour, is likely to be moved soon to a hospital with better facilities.
The child is fighting for her life at an East Delhi hospital, where she was admitted on Wednesday, after she was found battered and bleeding. She had been missing for three days. Her cries alerted some of her neighbours, who found her in one of the flats in her building.
The suspect, who allegedly did not give her water or food, and mutilated her, is missing. (
Minor girl raped in Delhi: Comment here
)
"This is the first time that I have seen such barbarism with a five-year-old," said R.K. Bansal, medical superintendent, Swami Dayanand Hospital. He said injuries and bruises suggested that the rapist tried to strangle her and left her to die.
The child was reported missing on Monday. When she was found, her father says the police offered him Rs 2000 "to keep quiet". He said they advised him, "Thank God that she has been found alive."
(Read)
The police has said that it began searching for her as soon as her parents complained that she was missing. A senior officer told NDTV that public parks in the East Delhi area were combed, but that the neighbour's house was not searched because the child's mother said she could not think of any suspects that might have kidnapped her daughter.
Since December, when the fatal gang-rape of a student on a Delhi bus stunned and incensed the country, the city's police and government have vowed that no effort will be spared to protect women. But a slew of attacks, many of them against young girls, prove that despite the introduction of tougher anti-rape laws and pledges of better policing, little has changed for a city titled "the rape capital" of India.