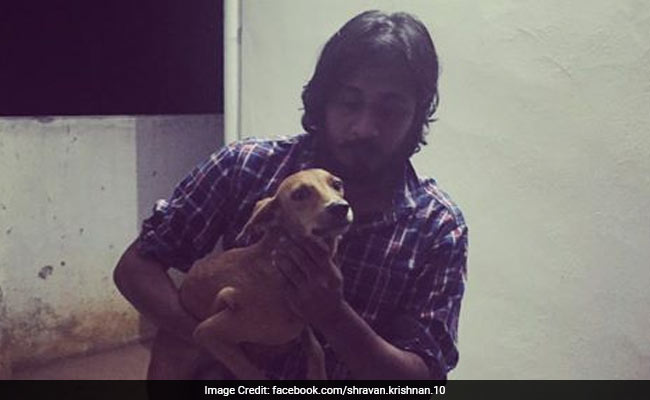 Highlights
Dog was seen being thrown from roof in a video that went viral
She has suffered a fracture, will undergo medical treatment
Dog-thrower and film-maker identified as medical students from Chennai
Chennai:
A dog thrown down from a two-storied building has been found alive. She has suffered a fracture, and will be under treatment. "What breaks my heart is that she was still wagging her tail," her rescuer posted on Facebook.
Shravan Krishnan's post has brought a sigh of relief in the city, which had been outraged by the video that showed a smiling, rotund man holding the dog on the edge of a terrace by the scruff of her neck, and then hurling her down. Seconds before she was thrown down, the dog was seen wagging its tail.
As the video was circulated across social media, locals stepped forward to identify the dog-thrower and the horror film maker. Gautam Sudarshan and Ashish Pal were identified as medical students in Chennai.
The police, who filed a First Information Report, said the two were hiding in their hometowns. "Their parents are bringing them to Chennai from Tirunelvelli and Kanyakumari. We expect them to be here by noon. We would arrest them," an officer said.
Please share and help us find this bastard pic.twitter.com/QE7jM3JvoD

- Karthik Dhandapani (@iamkarthikd) July 4, 2016
(Warning:

disturbing

footage of dog being thrown from a building.)
A senior police officer investigating the case said, "We have filed a case under Prevention of Cruelty to Animals Act. We are getting information from the college to get in touch with the medicos' parents. We hope they would encourage them to appear before us."
Investigators say the animal was tortured two weeks ago. After the video was posted on social media, dog activists launched a campaign to find the suspects, who rented rooms not far from their college. It's still not clear which building the dog was thrown from.
Excited netizens circulated the video of the rescued dog on social media. Her tail is still seen wagging.
That never ending Wagging tail pic.twitter.com/gNLYUMvGb2

- Karthik Dhandapani (@iamkarthikd) July 5, 2016