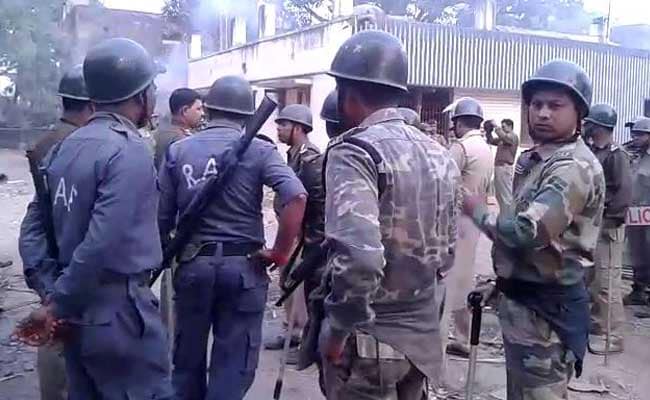 Kolkata:
The Union Home Ministry has asked the Mamata Banerjee government in West Bengal for a report on the mob violence on Sunday, during a protest march at Kaliachak, a town near Malda which is the headquarter of the district of the same name. Protesters had set fire to a police station and damaged vehicles.
Here are the latest developments:
The BJP has accused the Trinamool Congress government in Bengal of protecting those behind Sunday's violence.

"Communalism is on a rampage in Malda. Police station has been burnt down, innocents are being attacked and there is mayhem...Those who are doing it are doing so under the protection of West Bengal government. It is not taking any substantial action," Union Minister Mukhtar Abbas Naqvi said.

On Sunday, about 1.5 lakh members of the Muslim community protested in Kaliachak against comments about the Prophet Mohammad allegedly made by Kamlesh Tiwari, an activist of the right-wing Akhil Bharatiya Hindu Mahasabha, who is now in a Lucknow jail.

During the march on the national highway, a bus got in the way of the procession and protesters attacked it though passengers were unharmed. The police managed to partially disperse the protesters.

Soon after, however, the mob gathered again and attacked a Border Security Force jeep. It then ransacked the Kaliachak police station about 200 metres away, beat up policemen and set fire to vehicles parked outside.

The Rapid Action Force (RAF) was called in to control the situation and Section 144 or prohibitory orders were imposed amid tension. Ten people were arrested and produced in court on Tuesday.

This morning, West Bengal's only BJP lawmaker Shamik Bhattacharya and a dozen of his supporters were detained in Malda by the police to prevent them from going to Kaliachak.

Kaliachak is tense but calm and the situation is under control, said Malda district magistrate Sharad Dwivedi.

Assembly polls are due later this year in Bengal, where almost 30 per cent voters are Muslim. Their swing away from the Left played an important role in Mamata Banerjee's stunning victory in 2011.

The BJP has so far been a minor player in the state. It improved its performance in 2014, winning two parliamentary seats. A slump followed in recent civic polls, but the party hopes for a good show in the Assembly polls.
Post a comment