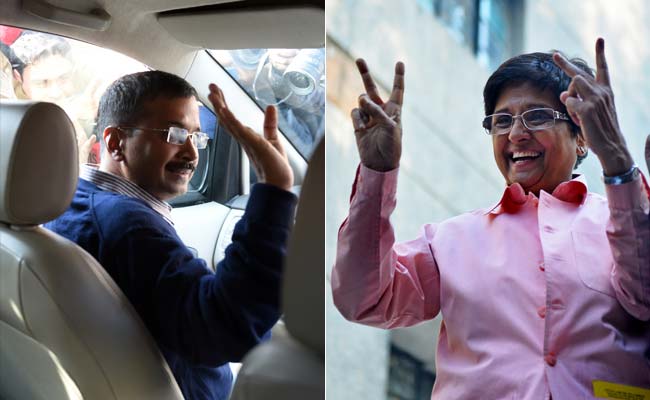 New Delhi:
Delhi, which is voting for a new government today, has recorded a voter turnout of 24 per cent till noon. The BJP, on a winning streak since last year's national election, is locked in a close contest with Arvind Kejriwal's Aam Aadmi Party. Results will be announced on Tuesday.
Here are 10 developments in the story
The BJP, which is counting on a big voter turnout in this close contest, is hoping for a minimum 60 per cent voter turnout, said sources. BJP President Amit Shah is taking stock of the voter turnout at the party office, they said.

The big question being asked - who will be Delhi's next chief minister? In what is seen as a personality driven contest, BJP's Chief Ministerial candidate Kiran Bedi, 65, takes on Mr Kejriwal, 46, for the top post.

Ms Bedi, who was among the early voters, tweeted as she set out to vote, "The Sun God from my Window. Magnanimous for all, always. Giving me the Energy to Serve...Thank you." Ms Bedi told reporters after casting her vote that she was going to visit all of the over 12,000 polling booths in Delhi.

President Pranab Mukherjee, Vice President Hamid Ansari, Congress President Sonia Gandhi, party Vice President Rahul Gandhi and Union Minister Harsh Vardhan were among the other prominent voters.

Ms Bedi and the AAP traded serious allegations today afternoon. When Ms Bedi alleged that AAP workers were "forcing people" to vote for it, the party hit back: "the BJP's claims are becoming increasingly more far-fetched."

The AAP, which had put up a stellar performance in the December 2013 assembly polls, seemed confident about its chances. "We expect to win more than 47 seats," said AAP leader Yogendra Yadav.

Prime Minister Narendra Modi, who had been the face of the BJP's campaign in Delhi, tweeted this morning, "As Delhi votes today, urging voters to go out and vote in large numbers. I particularly call upon my young friends to vote in record numbers."

The BJP has emphasised that today's election cannot be billed as a test of PM Modi's popularity. "It is not a referendum," said prominent Delhi BJP leader Aarti Mehra as she stepped out to vote this morning.

Congress President Sonia Gandhi cast her vote at the Nirman Bhawan polling booth in New Delhi constituency, with Sheila Dikshit, the former Chief Minister who had ruled Delhi for three terms, by her side. "Whatever the people want, (that) will happen," was her non-committal response to queries about the poll outcome.

The Congress, which ruled Delhi for three straight terms, is widely expected to finish a distant third in the race once again. In 2013, the party was decimated; it managed to win only eight of 70 seats. But, claimed party leader Shobha Oza, "you can't write off the Congress".