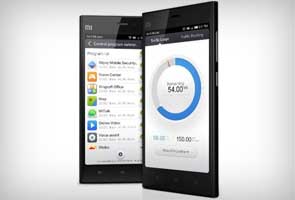 New Delhi: Flipkart, India's biggest e-commerce player, on Tuesday said that it sold Chinese handset maker Xiaomi's stock of its smartphone Mi3 within 5 seconds of going on sale.

Xiaomi debuted in the Indian smartphone market earlier this month. This was the second lot that was put on sale at 2 p.m. on Tuesday on online marketplace Flipkart, which is exclusively selling Xiaomi's handsets in India.
"The site saw an unprecedented 250,000 users simultaneously accessing the Mi3 page shortly after the sale opened at 2 pm today. This traffic load was four times higher than the heaviest level ever experienced by Flipkart's infrastructure," Flipkart said in a statement.
(See: A look at some milestones in Flipkart's history)

It further said that the entire inventory liquidated in just under 5 seconds. After Tuesday's sale, the total number of Mi3 devices - priced at Rs 13,999 - sold on Flipkart to date was 20,000.

Flipkart had earlier said it received about 1,00,000 registrations for the Mi3 between July 15 and July 21.
Last week, Flipkart.com witnessed a slowdown after online shoppers logged on the site to check out Xiaomi's Mi 3 smartphone that went out of stock within first 30 minutes of sale on the homegrown online marketplace.

Commenting on the sales, Xiaomi global vice president Hugo Barra said, "We are completely overwhelmed by the demand for Mi 3 by our fans here in India and are working diligently with our manufacturing partners as well as our local partners and the user community here in India to bring more devices and deliver the best possible product experience with Mi 3 and other models to come."


Known as the 'Apple' of China, Xiaomi plans to bring in more devices like Redmi 1S and Redmi Note priced at Rs 6,999 and Rs 9,999, respectively, in the coming days.
The Indian smartphone market is witnessing strong competition between local and international players, all vying to grab a share of the multi-billion dollar market.
"We learned a lot during last week's first sale and, after directing our entire team to work on improving the customer experience over the last week, we have made significant progress."
"The site held up extremely well today and no major issues have been reported. We are working towards an even more seamless experience for our customers in the future," Flipkart co-founder and CEO Sachin Bansal said.
Meanwhile, Flipkart also announced on the same day that it has raised $1 billion (Rs. 6,000 crore at 1 dollar = 60 rupees) in fresh funding - the biggest ever by an Indian internet company in a single round. (Read more)