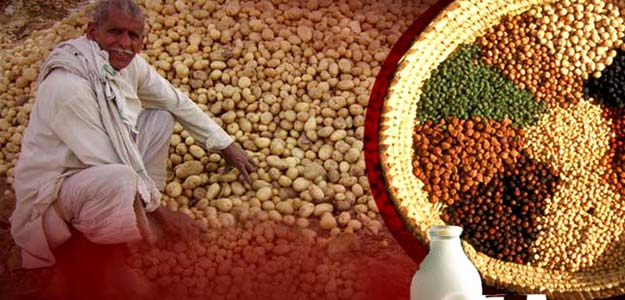 New Delhi:
India's wholesale price-based inflation eased to an eight-month low in January as food prices moderated, offering some relief to policymakers who have long battled to get a handle on surging prices.
The wholesale price index (WPI), long regarded as India's main inflation measure, rose 5.05 per cent last month, data showed on Friday, compared with a 5.80 per cent jump forecast by economists in a Reuters poll.
In December, wholesale prices rose 6.16 per cent.
But in a worry for new Reserve Bank of India (RBI) Governor Raghuram Rajan, core WPI inflation inched up to 3 per cent last month, which analysts said was its highest level since April 2013.
"...the euphoria over the moderation in the headline number needs to be balanced by the core inflation number which has inched up," said Siddhartha Sanyal, India economist at Barclays.
"At the moment, Governor Rajan has given enough indication of staying on hold. I don't expect Rajan to raise rates in April as inflation is easing and core inflation is not very high." (What experts say)
However, bond prices fell after the data on worries that a pickup in core inflation could evoke a hawkish response from Mr Rajan when he next reviews monetary policy in April.
The benchmark 10-year bond yield rose 2 basis points to 8.83 per cent after the WPI data. The yield had initially fallen to as low as 8.79 per cent.
Persistently high inflation prompted Mr Rajan to raise interest rates last month, the third hike since September, even though economic growth has been stuck below 5 per cent for the past four quarters.
Friday's data comes days after cooler food prices helped retail inflation ease to a two-year low of 8.79 per cent in January. It will offer some relief to the ruling Congress party which is seeking a third straight term in upcoming national elections.
Opinion polls ahead of the elections - expected between April and May - predict major losses for the ruling party, in part for sagging economic activity and its failure to control inflation.
Runaway prices, particularly those of vegetables, were one of the principal reasons for the drubbing the Congress party received in recent state elections.
Food inflation slowed to 8.80 per cent in January from 13.68 per cent in December, as vegetable prices fell 21 per cent month-on-month.
Rising prices amid the economic slowdown have pressured household budgets and company profits, hitting consumer demand as well as corporate investments. Industrial production shrank 0.6 per cent on year in December, its third contraction in a row, dragged down by weak investment and consumer demand.
Last month, a panel set up by the RBI chief recommended the apex bank pursue managing inflation as its main policy objective. It suggested setting a long-term retail inflation target of 4 per cent, plus or minus 2 per cent.
In the intermediate term, the panel proposed the goal would be to bring it down to 8 per cent by January 2015 and 6 per cent by January 2016.
India is among a handful of large emerging economies that do not target inflation.
Analysts say giving precedence to inflation management over the apex bank's two other main objectives - economic growth and financial stability - will encourage households to save and help businesses plan investments.
Risks
While improved food supplies following a bumper harvest are expected to keep overall inflation in check, risks persist.
"Most of the positive surprise in today's inflation print is on the back of lower vegetable prices," said Anubhuti Sahay, an economist with Standard Chartered bank in Mumbai. "Thus a reversal in these prices especially during summer months can push headline inflation higher."
Purchasing managers indexes earlier this month pointed to underlying inflationary pressures as output prices grew at a faster pace last month while input cost pressures eased very slightly.
An upswing in global crude prices and a government plan to raise rural wages from April are also expected to push up costs for Indian firms.
Copyright @ Thomson Reuters 2014