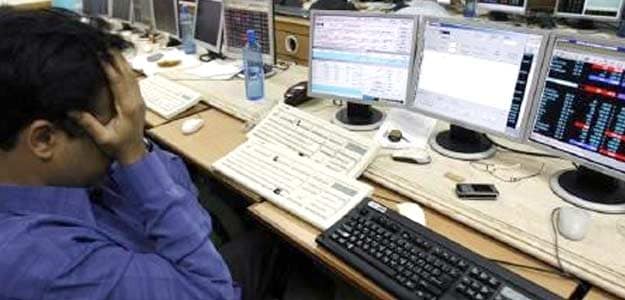 The BSE Sensex declined as much as 611 points in intraday trade on Friday as banking stocks came under sharp selling pressure. The Nifty snapped its 10-day rally that had powered the blue chip index to several record highs in the last few days. State-run lenders bore the brunt of the carnage with the sub-index of PSU banks on the National Stock Exchange ending 6 per cent lower.
Here's what happened:
1) Shares in Bank of Baroda, India's second-biggest lender by assets, declined as much as 15 per cent after the lender reported a 69 per cent fall in quarterly profit. The lender's net profit stood at Rs 330 crore in Q3 as compared to Rs 1,050 crore in the year-ago period.
2) State-run Bank of Baroda's profitability was hit because it had to set aside large sums to provide for bad loan. Provisions for bad loans rose 66 per cent from a year earlier to Rs 1,260 crore in the December quarter. (Read)
3) Bank of Baroda's tax expenses doubled; it set aside Rs 410 crore for taxes levied by the authorities in Dubai. Its executive director Ranjan Dhawan told NDTV that the tax charge is "one off" in nature and should be considered as a retrospective tax as the lender's appeal was turned down by tax authorities in Dubai. "We decided to take the hit in one quarter and not spread it over 2-3 quarters," he added.
4) Sentiments for banking stocks were further dented after ICICI Bank, India's biggest private lender, also reported deterioration in asset quality. Market analyst Hemindra Hazari warned that banking stocks could get de-rated. "Private sector lenders are not immune to deterioration in asset quality as they lend to same borrowers as that of public sector borrowers," he added. ICICI Bank shares fell as much as 7 per cent despite the lender reporting a record profit of Rs 2,889 crore.
5) On Thursday, state-run Oriental Bank of Commerce said net profit dropped 91 per cent to Rs 20 crore in the December quarter. OBC managing director and CEO Animesh Chauhan said the bank restructured assets worth Rs 2,050 crore in the quarter, while loans worth Rs 1,340 crore turned bad. For this, the lender made a provision of Rs 885 crore, which hit profitability. OBC also reversed Rs 137 crore in profit during the December quarter, which it had booked erroneously in the previous quarter. (Read)
6) OBC's dismal performance coincides with Mr Chauhan taking charge of the lender. PSU banks are prone to reporting weak numbers with a change in leadership. Mr Chauhan, however, told PTI that all the numbers were frozen on December 31, 2014, and he had no operational role during the 3rd quarter.
7) The string of disappointing results led to a selloff in big lenders such as State Bank of India and Punjab National Bank, which are yet to report December quarter numbers. Bank of Baroda, SBI and PNB together account for more than 70 per cent of loans, so a surge in their bad loans is a worry.
8) PSU banks have long been constrained by a pile of bad loans, mainly due to a slowdown in economic growth in the past two fiscal years, pulling profitability well below their private-sector rivals. State lenders recorded their highest-ever level of stressed loans in September at 12.9 per cent of total advances, while the same ratio in the private sector was just 4.4 per cent.
9) There's increasing worry that the expected pick-up in lending is unlikely to happen soon. Mr Dhawan said growth in bad loans was unlikely to slow significantly in the next two quarters. "The expected pick-up in demand has not materialised... Corporate lending has not improved though consumer sentiment has picked up," he said.
10) Some analysts linked Friday's selloff to cash crunch. "I think the fall was more to do with investors generating liquidity to participate in Coal India share sale," said Deven Choksey, managing director at KR Choksey Securities. The government raised over Rs 22,000 crore by selling a 10 per cent stake in Coal India today.
The Sensex ended 499 points lower at 29,182, while the Nifty ended at 8,809, down 143 points. Bank of Baroda closed 11 per cent lower at Rs 193, ICICI Bank declined 5.2 per cent to Rs 361, while OBC ended 5.5 per cent lower at Rs 266.
(With inputs from Reuters)