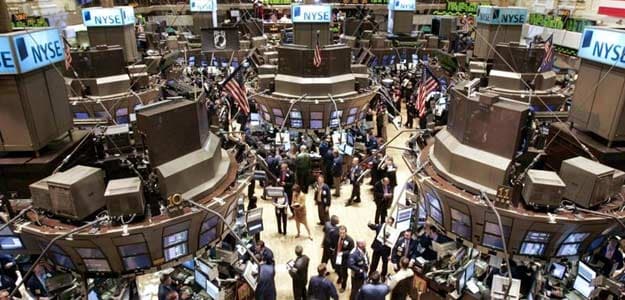 New York:
Tumbling commodities prices and worries about China's economy pulled stocks sharply lower on Tuesday, while bond yields declined and the dollar rose to a two-week high on bets US officials will soon hike interest rates.
Wall Street losses hovered for much of the trading day around 2 per cent on selling driven by falls in oil and copper before easing.
European shares were also stung by the commodities sell-off, with the pan-European FTSEurofirst 300 stocks index finishing down 3.3 per cent.
Wall Street's Dow Jones industrial average fell 179.92 points, or 1.09 per cent, to 16,330.47, the S&P 500 .SPX lost 24.23 points, or 1.23 per cent, to 1,942.74 and the Nasdaq Composite dropped 72.23 points, or 1.5 per cent, to 4,756.72.
The S&P materials index, down 1.8 per cent, led a broad decline in the S&P 500 stock index.
Copper prices were down 3.6 per cent after touching three-week lows, while oil was off 2 per cent. The Chinese government's efforts to stimulate growth by easing fiscal and monetary policy have failed to calm nerves in global markets.
"Investors are nervous because there is a sense that the Fed knows more than it is letting on regarding the health of the global economy," said Art Hogan, chief market strategist at Wunderlich Securities in New York.
The Federal Reserve last week kept U.S. rates near zero, citing turbulence in a tightly linked global economy, including slowing growth in China.
The selloffs in stocks and commodities boosted U.S. Treasuries prices and other lower-risk government debt, such as German 10-year Bunds. Benchmark 10-year Treasuries notes were up 22/32 in price, yielding 2.1337 per cent.
Equities weakness also helped lift the yen against the dollar, though the policy divergence between the Fed on the one hand and the European Central Bank and Bank of Japan on the other helped push the dollar to its highest since Sept. 10 against a basket of currencies.
Though the Fed held policy steady last week, ECB officials have been stressing that monetary policy in the euro zone will remain loose for some time.
The euro was last down 0.49 per cent against the dollar at $1.11345. The dollar was last down 0.43 per cent against the yen at 120.055 yen. The dollar index was last up 0.37 per cent at 96.250. That was just under a nearly two-week high.
Oil prices fell as concern over global growth weakened the outlook for demand and traders took profits from Monday's rise.
U.S. crude finished down 2 per cent but off its lows after a partial pipeline outage. Brent rose slightly for the day.
Gold eased with stocks and commodities and also suffered from the speculation the Fed may still raise rates in 2015. It last traded at $1,125 an ounce, a decline of 0.75 per cent.
"We're still in a situation where investors are going to wait and see when a hike will happen," Capital Economics analyst Simona Gambarini said. "There's going to be a bit of volatility around precious metals until the Fed eventually does hike rates."
© Thomson Reuters 2015