You thought the only way to measure gross domestic product (GDP) of a country is measuring the value of the goods and services? No, the World Bank has an innovative way to measure GDP of a country through observing night lighting from space! In a study titled Growth Out Of The Blue, the World Bank said that GDP, the most popular measure of economic activity of a country, can be quantified via satellite imagery and especially through luminosity of a region observed from outer space.
Measuring the economic growth of developing countries can be especially challenging because of the large informal sector and institutional constraints. To work around these challenges the World Bank has been using new technologies to measure the luminosity of a region and use it as a proxy for economic activity and predict the GDP growth of a country.
Night light intensity also tracks major economic developments, the report said. For example in India demonetization had a short-lived effect at the national level, but a noticeable impact on rural, unbanked and informal districts.
This monthly nightlight data is publicly available only since April 2012, said World Bank adding, that because of this, the performance of the lead forecast approach can only be assessed over the last five years or so. This night light data can be assessed more accurately in cases of India and Sri Lanka in South Asia, as these are the only two countries in the region that produce quarterly GDP estimates, it added.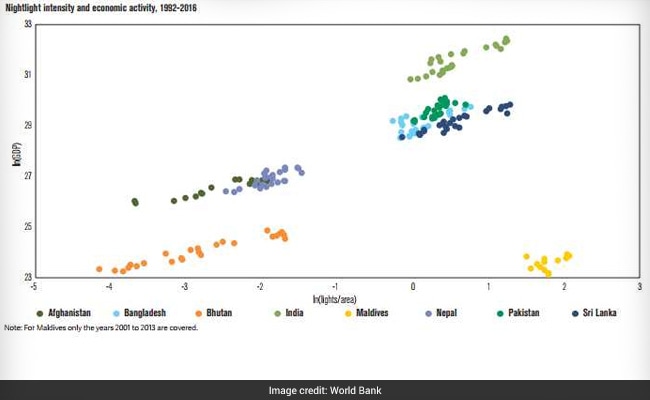 Here are five things that you must know about this innovative approach of measuring GDP:
Around the world, the use of nightlight data is common in studies dealing with urbanization dynamics. In India, significant changes in urban proportion have been observed in Tamil Nadu, Kerala and Punjab
Measures of economic activity based on night-time light (or nightlight for short) have some crucial advantages over surveys and censuses. These measures capture economic activity regardless of whether it is formal or informal, they do so with a very high level of spatial granularity, and they are available nearly in real time.
Importantly, nightlight data is cheap to acquire and is not subject to political interference, says World Bank.
A part of this correlation captures the fact that access to electricity, and the reliability of power supply, increase as countries develop. Electricity consumption increases with income levels.
This approach was introduced in a seminal academic paper by Vernon Henderson, Adam Storeygard and David Weil in a 2012. The goal was to develop a comprehensive framework to improve the reliability of GDP estimates for developing countries.
Follow NDTV for latest election news and live coverage of assembly elections 2019 in Maharashtra and Haryana.
Subscribe to our YouTube channel, like us on Facebook or follow us on Twitter and Instagram for latest news and live news updates.