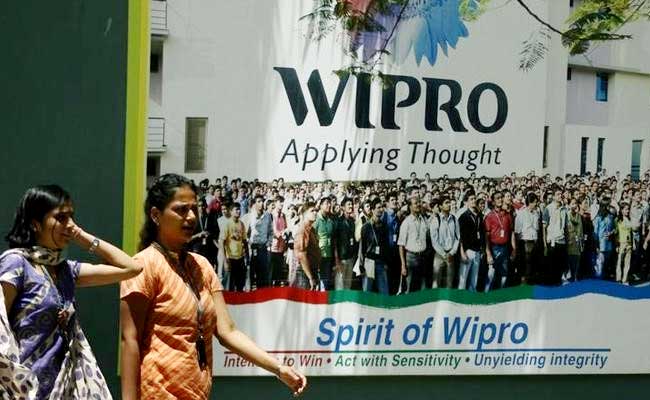 Mumbai:
Wipro Ltd forecast muted revenue growth for the quarter ending March 31, as India's outsourcing industry braces for a protectionist regime in the United States, its largest market.
Wipro, India's third-biggest software services exporter, expects revenues from its IT services business to be in the range of $1.92 billion to $1.94 billion, the company said in a statement on Wednesday.
The company's IT services revenue grew 3.5 percent to $1.90 billion in the quarter to December 31, from a year ago, the company said.
Wipro has acquired four firms, including cloud services company Appirio, in the past two years to boost growth, but analysts expect its revenue growth to remain muted.
"Despite its acquisitions, Wipro's revenue growth lags the industry's and we believe it is likely to remain in the mid-single digits over FY17-19, due to a faster-than-expected deceleration in its legacy services revenue," UBS said in a research note this month.
India's $150 billion information technology industry struggled through most of 2016, as clients in its biggest markets delayed spending due to political uncertainty in the United States and Britain.
Revenue from India's IT sector is likely to grow 8 to 10 percent in constant currency terms in the fiscal year ending March 2017, a local lobby group said late last year.
Wipro's bigger rivals Infosys Ltd and Tata Consultancy Services Ltd, which reported earnings earlier this month, said they were preparing for a more restrictive U.S. visa regime under President Donald Trump.
Indian IT companies depend on H1-B work visas to send their developers and engineers to the United States to service clients.
Wipro's consolidated net profit fell 5.6 percent to Rs 2,109 crore ($309.6 million) for the three months to Dec. 31.
That compared with a profit of Rs 2,237 crore a year ago and topped the Rs 2,087 crore expected by analysts, Thomson Reuters data showed.
Gross revenues rose 6.3 percent to 137.65 billion rupees.
Wipro also announced that it will acquire InfoSERVER, an IT Services provider for banking and financial services in Brazil, for $8.7 million.
Before its earnings announcement, Wipro shares closed 1.62 percent lower in a Mumbai market that ended 1.5 percent up.
© Thomson Reuters 2017