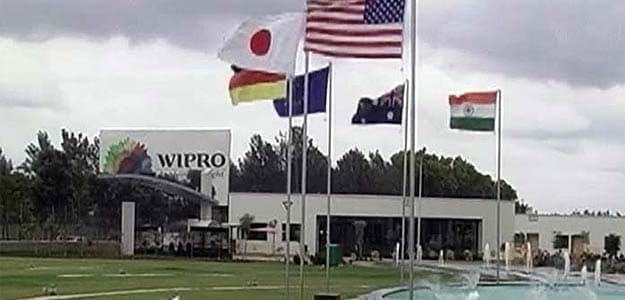 Wipro, India's third largest software services provider, beat estimates with a 24 per cent year-on-year jump in net profit for the September quarter as compared to Rs 1,301 crore in the year-ago period. Shares in Wipro closed higher in a buoyant market on Friday. Some profit booking was witnessed in the counter after four straight days of gains.

Wipro shares closed 1 per cent higher at Rs 364.95 on the BSE, marginally underperforming the broader BSE IT index, which gained 1.15 per cent. (Read: Analysts positive on Q2)

On a sequential basis, net profit jumped 1.9 per cent against expectations of marginal dip in profitability. Wipro said net profit jumped to Rs 1,610 crore against Rs 1,580 crore in the June quarter. Analysts had estimated net profit to decline to Rs 1,554 crore.

Wipro said IT services revenue was $1,541 million, a sequential increase of 1.7 per cent and year-on-year increase of 4.6 per cent. Wipro, which gives IT services sales outlook on a quarterly basis, forecast revenue for the three months ending December would rise 1.3-3.2 per cent from the September quarter to $1560-$1590 million, in line with analysts' expectations of 1-4 percent growth. (Photo gallery: Wipro's journey from vegetable oils to infotech)

"The guidance is 1 per cent better in dollar terms... However, valuations are rich so we have a target of Rs 300," Bhavin Shah, chief executive of Equirus Capital in Mumbai said.

Operating margins for IT services declined by 30 basis points to 20.7 per cent, but were better than the estimated 100 basis point dip.


"The IT services margins have fallen 20-30 basis point, which is a positive. The pricing has moved up... the number of more than $100 million clients have gone up to nine... The BFSI vertical, a pain point for most IT companies, has shown good growth," Aniruddha Mehta of IIFL said.
However, consolidated sales were flat at Rs 10,657 crore against Rs 10,653 crore in the June quarter and lower than estimates of Rs 10,811 crore. On a year-on-year basis, July-September rose 17 per cent. Wipro added 53 clients for its IT services during its fiscal second quarter.
On Thursday, Wipro announced the demerger its non-IT services business, including consumer care and medical diagnostics into another company. (Read:
Wipro demerger explained: What it means for shareholders
)
The move was aimed to focus on the outsourcing business, which accounted for 86 per cent of Wipro's revenue in the fiscal year ended March. The move was seen as an effort to boost growth amid cutthroat competition from local rivals Infosys Ltd and Tata Consultancy Services as well as global majors such as IBM and Accenture.
(With inputs from Reuters)