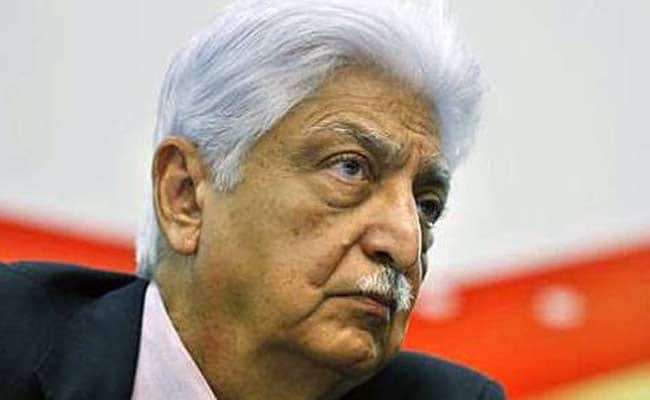 Highlights
Wipro chief Azim Premji's pay package fell to $1,21,853 in 2016-17
He was not paid any commission during the year
IT czar Azim Premji had drawn compensation of $3,27,993 in 2015-16
New Delhi
: Wipro chairman Azim Premji's pay package saw a fall of 63 per cent to $1,21,853 (about Rs 79 lakh) last fiscal year, with no commission being paid during the year. The IT czar had drawn a larger compensation of $3,27,993 (about Rs 2.17 crore) in the previous fiscal year. Mr Premji's package included $66,464 in salary and allowances and $13,647 in long-term compensation (deferred benefit - the company's contribution to the Provident Fund and Pension Fund), totalling to $121,853 for the year 2016-17, documents with the US market regulator Securities and Exchange Commission showed.
"Azim H Premji is entitled to a commission at the rate of 0.5 per cent on incremental net profits of Wipro for the fiscal 2017 over the previous year... For the year ended March 31, 2017, commission paid to Azim H Premji is INR Nil," the document said.
All other executives received variable pay under a quarterly performance-linked scheme, based on key parameters of individual or combined performance of the business unit, division or segment or the company as a whole, it added.
In 2015-16, Mr Premji had received a commission of $1,39,634. There has been a decline in compensation for key executives across the industry and it is reflective of the slow pace of growth for players.
Infosys chief executive officer Vishal Sikka, for example, saw his pay package coming down 67 per cent to Rs 16.01 crore in 2016-17, from Rs 48.73 crore in the previous year. (
Read
:
Vishal Sikka's salary drops 67% in 2016-17
)
Wipro saw its net income for the full year decline 4.7 per cent over the previous fiscal year. For the fourth quarter, its IT services revenue declined marginally over the October-December quarter. (
Read more
)
(
Also read
:
Wipro to issue one bonus share with every share
)
However, Wipro CEO Abidali Neemuchwala's pay package saw a 16 per cent increase to $2.09 million during financial year 2016-17, which included $8,00,000 in salary, $1,50,244 in commission and $9,014 in deferred benefits.
Mr Neemuchwala was elevated as the CEO on February 1, 2016 from the position of COO.
The high compensation for leaders in the tech sector also came under spotlight after Infosys founder N R Narayana Murthy questioned pay hikes for senior executives at the Bengaluru-based firm. (
Also read
:
Take pay cuts to stop IT layoffs, Narayana Murthy tells senior executives
)
Rishad Premji
, chief strategy officer and Wipro board member, took home a salary of $2,60,015 in 2016-17 compared with $325,462 in the previous fiscal year - a fall of 20 per cent.