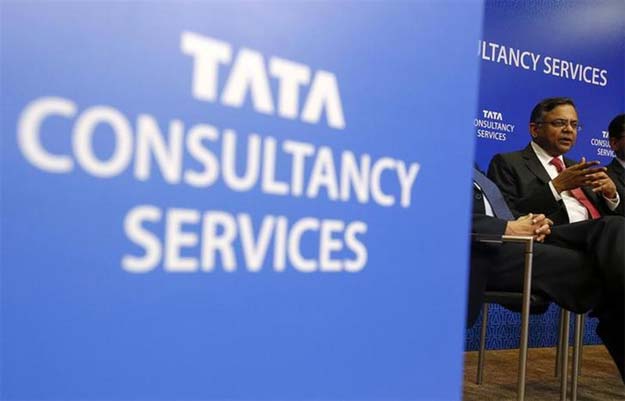 Tata Consultancy Services shares dropped sharply on Friday after the company missed its dollar revenue growth estimate for the December quarter. TCS also missed operating margins forecast for the quarter. There was some disappointment with TCS results because Infosys and HCL Tech, which reported their numbers earlier, had surpassed Street estimates. Infosys has in fact managed to beat Street estimates for the third straight quarter since founder Narayana Murthy returned in an executive role. However, analysts continue to bet on TCS. (Read: TCS shares fall over 5 per cent after revenue growth misses estimates)
1) Margins: TCS' ebit margins of 29.8 per cent in the December quarter (versus 30.2 per cent in Q2) was far superior to Infosys, whose operating margin rose to 25 per cent from 23.5 per cent in Q2. Had TCS not invested part of the margins back into the business, operating margins would have been higher by 70 basis points, chief executive and MD N Chandrasekaran told NDTV. Infosys margins were driven by cost optimizations, CFO Rajiv Bansal said last week. (Read: How TCS performed in Q3)
2) Guidance on margins: TCS margins are expected to be in a band of 26-28 per cent, Mr Chandrasekaran said, adding the company will continue to re-invest part of profits into business. Infosys also intends to re-invest profits into business, but its margins are likely to be around 26 per cent, Mr Bansal said.
3) Growth: TCS dollar revenues grew at 3 per cent sequentially (lower than estimates) in the December quarter. However, the company is expected to end 2013-14 fiscal with around 16 per cent growth, Nomura said. Compare than to Infosys, which grew at 1.7 per cent q-o-q in the December quarter and has said will end 2013-14 with 11.5-12 per cent growth. That will be lower than the average industry growth estimates of 12-14 per cent. TCS reported volume growth of 1.8 per cent q-o-q, higher than 0.7 per cent sequential growth Infosys reported in the same quarter.
4) Growth guidance: 2014 will be much better for Indian outsourcers as exports to US, which accounts for around 60 per cent of IT sales of tier-1 firms, are likely to see better traction. Mr Chandrasekaran told NDTV that TCS sees great momentum in every market and every industry it operates in (Watch the full interview). The company is also bullish about digital business-led discretionary spend. The digital business, which has above-industry margins, will contribute $4-$5 billion to TCS sales over three years, Mr Chandrasekaran said. In contrast, Infosys chief executive SD Shibulal's commentary on growth, post third quarter earnings announcement, sounded cautiously optimistic. TCS is best placed to benefit from both cost efficiency drive at clients and improved discretionary spend outlook, Nomura said.
5) Employee morale: Attrition rate at TCS stayed near record lows at 10.9 per cent in the December quarter. This is in stark contrast to Infosys, where attrition hit a record high of 18.1 per cent in the same quarter. Infosys is talking about the possibility of double digit wage hikes (which would impact margins) and advancing its increment cycle to retain staff. (Read: Infosys may give double-digit wage hikes)