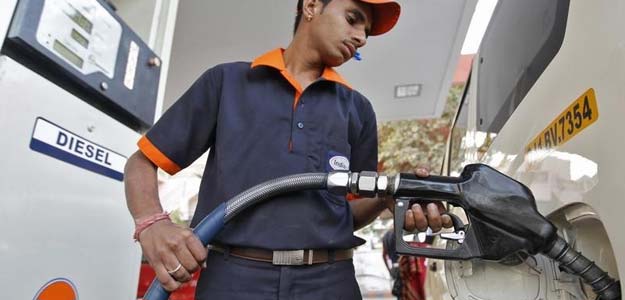 The Modi government on Saturday de-controlled diesel prices and also announced a hike in domestic gas prices. State-run refiners such as Indian Oil Corp, HPCL and BPCL as well as upstream companies such as ONGC, Oil India and GAIL jumped between 4-9 per cent on the announcements. HPCL hit its 52-week high, but Reliance Industries traded lower today. (Track markets)
Here is a 10-point cheat-sheet to understand the impact of these important decisions on stocks,
1) The decontrol or deregulation of diesel prices will allow state-run retailers such as Indian Oil Corp, BPCL and HPCL to increase or decrease diesel prices according to global crude rates. This means there will be no under-recoveries (losses) on selling diesel at below-marketing price from now onwards.
2) Till now, state-run retailers had to bear interest charges on debt they took to fund under-recoveries on selling diesel at below-market prices. The government reimbursed these companies three to six months later. With no under-recovery on selling diesel, state-run retailers will no longer have to take debt to fund under-recoveries, which run into thousands of crores. This will save them interest charges.
3) Some analysts say that state-run retailers will also gain from higher marketing margin, which will boost their profitability. Jefferies says HPCL will be the biggest beneficiary of diesel decontrol. (Read)
4) Shares in upstream companies such as state-run ONGC, Oil India and GAIL (India) also gained. These companies have to compensate state-run retailers for selling diesel, LPG and Kerosene at below-market prices. Since diesel will no longer be sold below-market price, their contribution to subsidy is likely to come down.
5) Diesel decontrol is also positive for private refiners such as Reliance Industries and Essar Oil, whose retail operations have struggled because state-run refiners sold petrol and diesel at discounted rates and were later compensated by the government.
6) Upstream companies also stand to gain from the government's decision to hike gas prices from $4.2 per mmBtu to $5.61 per mmBtu (effective November 1). About 80 per cent of the additional revenue due to revision in gas prices will go to state run companies ONGC and Oil India, analysts say.
7) Some analysts said the effective price of gas will be $6.2 per mmBtu (not $5.61 per mmBtu) on the basis of net calorific value (NCV). The government, however, has clarified that the new price of $5.6/mmbtu has been worked out on NCV and not on gross calorific value (GCV).
8) The hike in gas prices is lower than that recommended by the previous government, which has suggested raising gas prices to $8.4 per mmBtu. However, gas prices will now be revised every six months, which is a positive, analysts say.
9) Reliance Industries will not get the benefits of the price rise for gas produced from its KG-D6 block as it is currently locked in arbitrations with the government over a sharp fall in production. RIL will deposit the differential between $5.61 and $4.20 in an escrow account. Reliance Industries shares were under pressure today. (Read why)
10) The fuel reforms are a very important signal of the government's commitment to tough economic reforms, Nomura says. They will encourage more competition and investment in the oil & gas sector, which is a long-term positive, it added. The Sensex soared over 400 points, while the Nifty traded above 7,900 tracking the reform measures.
(With inputs from Reuters)