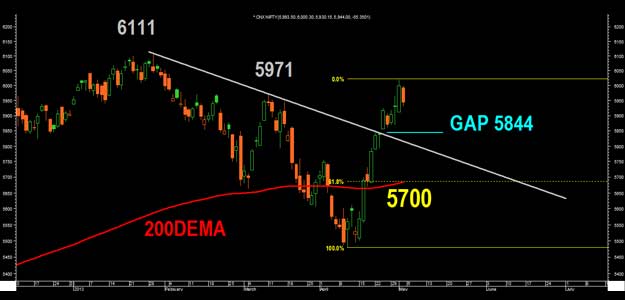 Indian stock markets have posted a third straight week of gains, and despite being overbought, traders are optimistic about further increase in share prices. The Nifty broke above the key 6,000 mark for the first time in nearly three months last week amid a stellar rally in April.
Five reasons why markets may continue to be bullish
Technicals: Market analyst Sarvendra Srivastava said the 200 day exponential moving average, which gives more weightage to recent performances, has started to rise again, indicating strength in markets. The 200 day moving average (simple) has already been rising. Mr Srivastava says the Nifty is headed all the way to 6,150 though a 100-150 point correction is likely over the next few days. The bullish stance on Nifty will reverse only when the Nifty slips below 5,694, Mr Srivastava said.
Global markets are bullish: The Dow Jones industrial average and the S&P 500 index both rose to record highs on Friday. Unemployment rate in the U.S. fell to 7.5 per cent, which was the lowest level in four years.
Foreign investors bought stocks to the tune of $1 billion in April, providing support to equities. The flow of global funds is likely to continue after key central banks committed to an easy monetary policy.
MSCI India has already outperformed MSCI Asia ex-Japan since it became one of the cheapest four markets in the region in early March. Credit Suisse says that there is still room for more outperformance.
Credit Suisse said not only does India look cheap relative to Asia ex-Japan, but even on an absolute basis, the current price-to-book of 2.02 times is close to the last 3 troughs of 1.95 times.
Technicals:

The 200 DEMA, 200 DMA and 61.8 per cent retracements all converge around 5700, indicating strong support around 5,700-5,750 levels, Mr Srivastava said.

Key things to look out:

The focus will now shift to monsoon showers and the flow of global funds after key central banks committed to an easy monetary policy. The factory output data for March and for the last fiscal year will be watched on May 10.


(With inputs from Reuters)