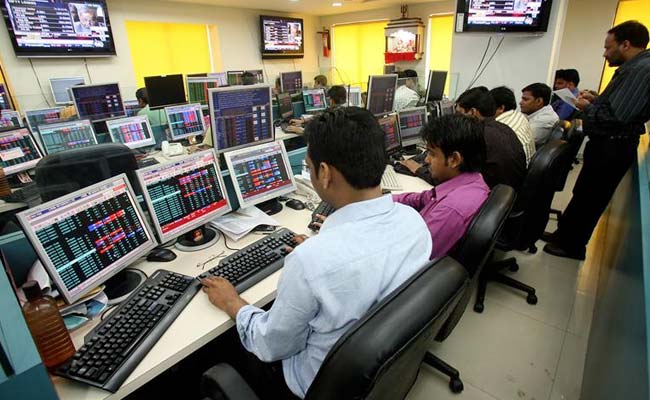 Indian stock markets witnessed a selloff for the second day on Monday
, tracking weakness in global markets. The Sensex had slumped 839.91 points on Friday, which was attributed to global weakness and introduction of long-term capital gains, or LTCG, tax on stocks in Budget 2018. Today the Sensex fall almost 550 points at day's low, also tracking a selloff in global markets. Asian markets saw a big decline today, following Friday's Wall Street selloff, with Japan's Nikkei falling nearly 2.5 per cent. However, domestic stocks staged a big recovery in noon trade, with Sensex down only 250 points.
5 Reasons For Sensex, Nifty Selloff
1) The sell-off in domestic equity markets is due to a weak global sentiment, not because of long-term capital gains tax announced in the Budget 2018,
Finance Secretary Hasmukh Adhia
said today. Mr Adhia said the 10 per cent tax on long-term capital gains (LTCG) is a "subsidised rate" as such gains on sale of unlisted scrips and immovable property are taxed at 20 per cent. "If the entire world index has gone down by 3.4 per cent, naturally it would have ripple effect on Indian stock market also. It is not LTCG tax effect," Mr Adhia said at a post-Budget meet organised by industry body CII.
2) The latest trigger for selloff in global markets is a better-than-expected jobs data in US, which was released on Friday. .This has led to expectations that the Federal Reserve - the US central bank - could raise interest rate faster than expected. Yields on 10-year U.S. Treasury paper were up at a four-year peak of 2.86 per cent today, having jumped almost 7 basis points on Friday. The Fed last week held interest rates unchanged, but raised its inflation outlook and flagged "further gradual" rate increases. In reaction, the Dow Jones Industrials Average fell almost 666 points on Friday, its biggest daily percentage loss in 20 months.
3) Faster rate rises by the Fed or higher interest rate would be negative for emerging markets and commodity currencies, said Deutsche Bank macro strategist Alan Ruskin.
4) Back home, investors also remained concerned that the government widened its fiscal deficit target for the year starting in April to help finance higher spending, say analysts. The government also imposed a 10 per cent long-term capital gains tax for equity investments of more than one year.
5) The RBI will on February 7 will announce its monetary policy, amid worries it could turn more hawkish on inflation after inflation hit a 17-month high in December, well above its 4 per cent target. "We expect the RBI to remain on a pause in this policy. However, the tone will likely be more hawkish with probability of rate hikes in FY2019 increasing," said Suvodeep Rakshit, senior economist at Kotak Institutional Equities.
(With Agency Inputs)