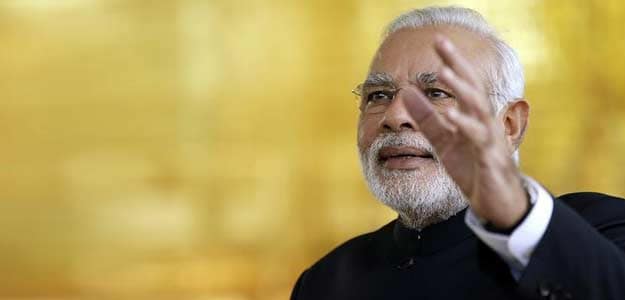 Prime Minister Narendra Modi is meeting heads of 11 top US companies over breakfast after which he is scheduled to have one-on-one meetings of 15 to 20 minutes each with six CEO. They are - James McNerney who heads Boeing, Henry Kravis of KKR, Laurence D. Fink of BlackRock, Virginia Rometty of IBM, Jeffrey R. Immelt, who helms General Electric, and Lloyd Blankfein, CEO of Goldman Sachs.

Google's Eric Schmidt, Citigroup's Michael Corbat, MasterCard's Ajay Banga and Pepsico's Indra Nooyi will be among those meeting PM Modi over breakfast.

Here is why PM Modi is wooing big American corporates:

1) Prime Minister Modi's "Make in India" campaign aims to turn the country into a global manufacturing hub. The ambitious plan entails increasing the growth rate in the manufacturing sector to 10 per cent per year and raising its share to 25 per cent in the overall GDP. This will ensure job creation for over 10 million people, who join the workforce every year.

2) For "Make in India" to succeed, huge investments are required. India needs long-term foreign capital or foreign direct investment (FDI) in different sectors. Over the past decade, gross FDI inflows into India have averaged less than 2 per cent of GDP and the new government will have to up that figure considerably.

3) The country also needs capital to develop infrastructure, which is inadequate to meet even current needs. Funds are also needed for rapid urbanization. In all, gross investment rate will have to go up from the current 31 per cent to 40 per cent of the GDP, Deutsche Bank estimates.

4) Over the last month, the new government has secured investments worth $55 billion from Japan and China, but no such state largesse can be expected in Washington and analysts say PM Modi must win over the US private sector to attract foreign capital.

5) In his meetings with global CEOs, PM Modi is likely to talk about steps the new government is taking to improve the ease of doing business in India. According to World Bank, India ranks 134 out of 189 countries in terms of the ease of doing business. PM Modi said last week that India must quickly move up to at least 50.


6) The Prime Minister is also likely to apprise the CEOs about the new government's intention to cut red tape and repeal archaic laws that make investing in India difficult. He said in an address at New York's Madison Square Garden yesterday, "If everyday, I can end one law, then it will be an achievement."
7) PM Modi will have to convince investors on India's commitment to faster reforms, especially those related to labour laws, land acquisition and taxation.
8) The taxation issue, in particular, has been a sore point with global investors. The retrospective amendment, introduced in 2012, resulted in high-profile tax enforcement actions against global companies such as Vodafone. These episodes dented India's appeal as an investment destination, contributing to an image of India as a country that pursues "tax terrorism".
9) PM Modi is also likely to use the opportunity to clarify the government's stand on the general anti-avoidance rules (GAAR), which had sparked alarm among foreign investors because of provisions that included tightening rules on investments from countries that have double taxation treaties with India.
10) PM Modi has had a long experience of negotiating with top business leaders and as Gujarat's Chief Minister, he made the "Vibrant Gujarat" investors summit a successful brand. Over the next few months, analysts will monitor if he has been able to use his business friendliness and acumen to fetch increased foreign investments for the country.
(With inputs from agencies)