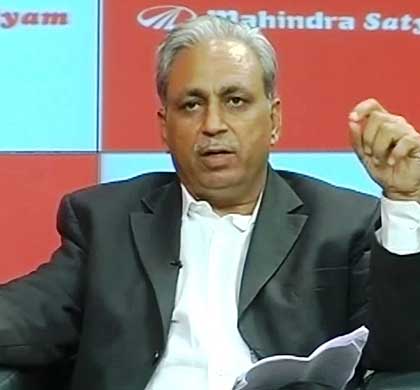 Highlights
Mahindra Satyam posted over 56 per cent jump in net profit to Rs 352 crore for the quarter ended June 30, largely on account of forex gains and interest income. Chairman Vineet Nayyar and CEO C.P. Gurnani discuss the first quarter earnings on NDTV Profit.
New Delhi:
Reserve Bank of India governor D Subbarao met finance minister P Chidambaram on Monday. The relationship between the finance minister and the governor is critical in the context of the situation in the economy. While it is called a 'courtesy call', the governor needs to highlight critical areas for the government to act on so that he can cut interest rates to stimulate growth.
The government and RBI have to work in tandem if India's sagging economy has to get back to a high growth path.
Chidambaram faces three fundamental challenges as he looks to bring the economy back on track. These include allies of the United Progressive Alliance, or UPA, markets and 'aam aadmi', the mascot of the government. The trouble is that there is very little that is acceptable to all.
The need of the hour though is to take steps in the national interest. They have to be taken even if they are not acceptable to all.
1) Subsidies: Investors are a happy lot here if this is done. Allies and 'aam aadmi' will not like it if the government curtails expenditure. It has to fundamentally cut subsidies that give cheap fuel, fertilizer and food to the common man. During the financial year 2011-12, India's net tax receipts were Rs 6,42,000 crore and the total expenditure was Rs 13,19,000 crore. Budget estimates for 2012-13 put net tax receipts at Rs 7,71,071 crore and the total expenditure at Rs 14,90,925 crore. Major subsidies (fuel, food and fertilizer) were to cost the exchequer Rs 1,79,554 crore. However, they have been revised upwards to Rs 2,16,297 crore for 2011-12 due to rise in oil prices and fall in the rupee. It could go up even further for 2012-13. It has been a struggle to control subsidies. The then finance minister Pranab Mukherjee had put a cap on subsidies at 2 per cent of gross domestic product or GDP. The money on subsidies can be easily used to build India's infrastructure to help the common man. However, the trouble is that good economics makes bad politics. Allies would not support any such plan.
2) Expenditure control: Besides subsidies, the government could think of cutting down its own size. The non-plan expenditure of the government covers 107 central ministries and departments. Data from department of expenditure reveals that the allocation in 2011-12 to all ministries and departments stood at Rs 8,16,182 crore. Budget estimates suggest the number would go up to Rs 9,69,900 crore. The government announced austerity measures and requested ministries to cut sundry expenses. Chidambaram not only needs to implement those measures announced but think of new ways to cut expenditure.
3) Unleashing growth: While thinking of ways to cut expenditure, the government needs high growth to boost revenue. RBI has cut the growth forecast for 2012-13 to 6.5 per cent from 7.2 per cent earlier. If businesses and individuals do not make money, they will not pay taxes. They will not pay taxes on goods and services either as they would consume less. This could hurt both the direct and indirect tax revenue of the government. RBI's monetary and economy survey published says that corporate investment intentions remained depressed. The aggregate project cost envisaged from new projects sanctioned financial assistance by banks and financial institutions, have continued to moderate through 2011-12 aggregating Rs 2,10,000 crore in 2011-12, down from Rs 3,90,000 crore in the previous year. This is bad news from a standpoint of raising tax revenue and stimulating domestic consumption. A cut in planned investment means fewer jobs. This hurts overall spending in the economy and hurts growth.
4) Interest rate cuts: One way to stimulate growth is to make rapid cuts in interest rates. However, RBI is not able to do something that could please everyone. This is because the Indian government is living beyond its means. The government's budget hole of Rs 5,69,000 crore predicted for 2012-13 does not allow RBI to cut rates. This is because the government borrows the equivalent amount from RBI. It has to be made available to the government. RBI cannot just print notes as that would stoke inflation. It has to balance the money supply. So it makes more money available to the government and less to businesses and individuals. The need of the hour is to make more money available to businesses and individuals and less to the government. Investors and 'aam aadmi' would be pleased but allies may not.
5) Economic reforms: Political allies are not in favour of most of them. Investors want the government to push for reforms. "If India is able to engage in meaningful reform, I can see the potential for growth rates there that could echo what China experienced 5-10 years ago," said Mark Mobius, a renowned global fund manager who manages billions of dollars Franklin Templeton invests in emerging markets said in his blog on Thursday. The implementation of goods and services tax would add 2 per cent to India's predicted GDP growth of 6.5 per cent, according to Adi Godrej, chairman Godrej Group and a prominent industry voice. Yet, political allies and opposition parties are not able to convince all states of implementation. Chidambaram will have to work with states to expedite this. In the past, Chidambaram has been a champion of tax compliance. To bring more people into the tax net, the direct tax code needs to see the light of the day. Foreign direct investment in sectors like multi-brand retail is necessary to improve the so-called supply side constraints. The idea is that a well- organized retail industry creates a back end supply chain that prevents wastage of food through development of cold-storage chains. It also brings down prices of goods. This could benefit the common man. However, political allies are resisting reforms to cater to their respective vote banks.