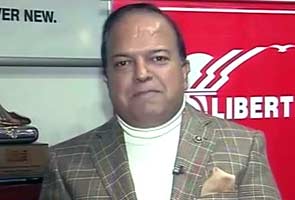 Liberty Shoes had a fantastic year so far; its shares are up 133 per cent from the 52-week low of Rs 114 hit on January 30. A careful analysis would reveal that most of the gains have come in the last one week.
Liberty Shoes jumped more than 30 per cent over last week, buoyed by the introduction of the constitutional amendment bill for Goods and Service Tax in Lok Sabha on Friday.
The implementation of GST will increase the competitiveness of organized players in the footwear industry, helping companies such as Liberty Shoes, analysts say.
The sharp fall in crude oil prices has also contributed to the strong rally in Liberty Shoes. A lot of raw materials used by the footwear industry are derived from crude oil and prices of these raw materials have come down tracking the crash in crude oil prices.
Adesh Gupta, chief executive officer at Liberty Shoes told NDTV that the fall in raw material cost has offset the increase in labour cost and led to improvement in margins.
"Material cost is 33 per cent of the maximum retail selling price," he added. (Watch full interview)
Liberty Shoes' core business also picked up in 2014. According to Mr Gupta, all three business segments-domestic, institutional exports posted about 30 per cent this year.
"We have plans to open about 100 stores each year, which should give us a solid growth going forward," said Mr Gupta. 60 new stores would be franchise-owned, while 40 stores would be company-owned, he added.
Majority of the new stores would come up in tier-2 and tier-3 cities, where rentals are lower, the company said.
The strength in the US dollar has also boosted Liberty Shoes' bottom line. "As the dollar is getting stronger, I think the margins will improve in exports," Mr Gupta said.
The company also expects its institutional business to do well. "We supply industrial shoes and also we supply shoes to the government. The government is one of the biggest buyers," added Mr Gupta.
Liberty Shoes pays nearly 2 per cent of its revenues as royalty to its group companies for using the Liberty brand. The company hopes some reduction in royalty payment going forward due to restructuring of two of its sister concerns.
Challenges faced by the company:
1) Most of the malls where Liberty Shoes wants to open its stores are not ready yet. Besides, rentals in tier-1 cities and high-street malls are very high, making opening of new stores unviable, the company said.
2) The footwear industry is a labour intensive industry. If wages go up, the company's margins are hit. Minimum wages go up by 10-15 per cent per year, the company said. Labour costs are around 10 per cent of the maximum retail selling price.
Still, Liberty Shoes is optimistic about its future prospects. "We are poised for a big growth because we are on the thresh hold of revolution in the footwear industry. I believe going forward the industry should do very well because of lifestyle change as well as the fashion, which is coming to the Indian consumers," said Mr Gupta.