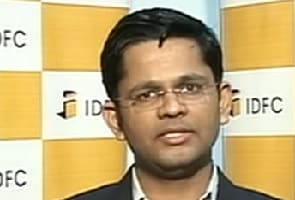 Outsourcing major TCS has become the first Indian company to top Rs 5 lakh crore in market value. To put it in perspective, TCS now even exceeds the combined market value of its rivals Infosys (Rs 1.9 lakh crore), Wipro (Rs 1.4 lakh crore) and HCL Tech (Rs 1.1 lakh crore).

Analysts say that as companies grow too big in size their growth slows down as they find fewer opportunities. But why is the market still bullish on India's biggest outsourcer TCS, which pulled in annual revenues Rs 81,809 crore in 2013-14 and has over 3 lakh employees?

Hitesh Shah of IDFC Securities says, "Despite its size TCS, remains the fastest growing IT services company in the offshore space. To that extent the premium valuation of TCS is justified. There are not too many stocks that show that kind of revenue traction." (Seevideo)

TCS is one of the favourite stocks of IDFC Securities in the IT services space. "They would probably grow at 19 per cent on the reported revenues terms and 16 per cent on organic revenue terms year-on-year. This is far better than peers like Wipro and Infosys and HCL Tech for that matter," Mr Shah says.

TCS already has made a strong beginning to the first quarter of 2014-15, with its June quarter revenue growing over 22 per cent in rupee terms.


Mr Shah believes that TCS should be a part of an investor's core portfolio because "IT services is likely to be compounding story rather a cyclical story where there is a sharp return and some declines as well."
"The underlying business of TCS is strong and we would see revenue and earnings growth of upwards of 15 per cent. This makes up believe that that there is an absolute return of 15-20 per cent to be made each year over the next few years," he says.
Mr Shah is also bullish on the Tech Mahindra, the IT company many analysts bet joining the big league of Wipro, Infosys, HCL Tech and TCS in the future.
Get Breaking news, live coverage, and Latest News from India and around the world on NDTV.com. Catch all the Live TV action on NDTV 24x7 and NDTV India. Like us on Facebook or follow us on Twitter and Instagram for latest news and live news updates.