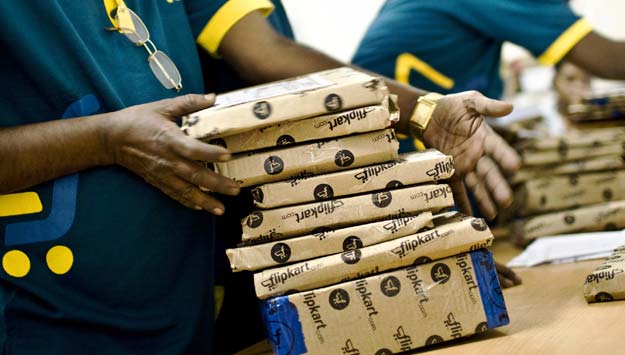 India's e-tailing sector has seen exponential growth in recent years. E-tailing, which comprises of online retail and online marketplaces, has grown at a CAGR (compounded annual growth rate) of around 56 per cent between 2009-2014 and the market size is currently pegged at $6 billion, PwC said in a report.
But a big driver of this growth has come from discounts offered by e-tailers like Flipkart and Snapdeal. According to a PwC survey, almost half the shoppers buy online because of better deals.
But e-tailers in the future could be paring the discounts. Flipkart may cut back on the discounts it uses to woo customers, the chief finance officer of India's biggest online retailer was quoted as saying in a news report.
Here are the why analysts expect e-tailers to gradually pare down the discounts.
Rising Losses: The combined losses faced by e-tailing companies as a result of their discounting strategies now stand at almost Rs 1,000 crore, PwC says in a report. Pinaki Ranjan Mishra, national leader retail practice at EY, says "You can't run a business unprofitably for long. You have to earn to profit to be sustainable."
Pressure to Be Profitable: Despite suffering losses, many e-tailers, with the backing of big investors, have been doling out discounts and special offers. PwC says with valuations of e-commerce companies skyrocketing, there is increasing pressure from investor firms to cut down on discounts and concentrate on making profits. Flipkart's CFO was quoted in the report as saying that it is aiming to become profitable in two years. Founded in 2007, Flipkart has never been profitable, despite commanding an estimated market valuation of $15 billion.
Rising User Base: Mr Mishra of EY said that e-commerce companies now have a big base of users who are hooked to the medium. They would be looking to sell more goods profitably to this rising base of users, he added. So far, discounts have helped e-commerce companies to expand their user base. Flipkart claims to have nearly 26 million registered users clocking over 8 million daily visits. Snapdeal has over 20 million registered issues, it claims.
Tax Issues: E-commerce firms which follow a marketplace model are coming under the tax scanner from states where their fulfilment centres are located. The states have demanded payment of value-added tax though the e-commerce players contend that they are just facilitators, connecting the buyers and sellers. Mr Mishra of EY says that the implementations of GST will help to sort out many of these issues.
Brand Dilution Fears: The discounting model has been taking a toll on the brands associated with these sales too, says the PwC report. "It may not always be viable for a brand to participate in a sale. Apart from taking a hit on their margins, premium brands with a presence in online retail are concerned about the deep discounts hurting their brand value as well," it adds.