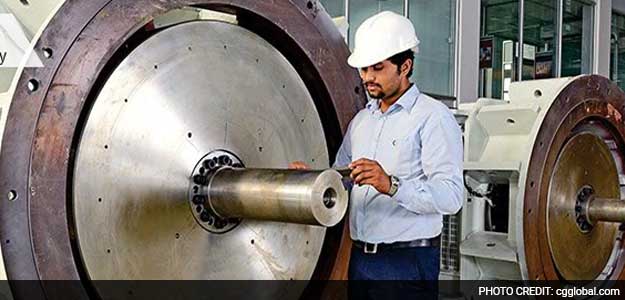 Crompton Greaves shares crashed nearly 30 per cent on Wednesday following the power products manufacturer's December quarter earnings announcement. The slump in the Gautam Thapar-led Avantha Group company led to severe erosion in Crompton's market capitalization and hit investors.

Here is what you should know about the carnage in Crompton shares:

1. On a consolidated basis, Crompton Greaves posted a net loss of Rs 107 crore in the quarter ended December as compared to a net profit of Rs 274 crore in the year-ago period. Income fell to Rs 2,087.52 crore from Rs 2,436 crore year-on-year. However, Crompton's consolidated numbers are not comparable as they do not include the financials of the consumer business, which was demerged on October 1, 2015.

2. Results were weak on a standalone basis (excluding consumer business) as well. Crompton's standalone revenues fell 5 per cent, while net profit slumped 28 per cent year-on-year in Q3. Sharp revenue contraction in the domestic power systems business and large overseas losses hit the company's financials, analysts say.

"Operationally, the key disappointment came from an 11 per cent decline in standalone power sales to Rs 580 crore. While management attributed this to delivery schedules, we think there is more to the decline than meets the eye; in our view, the drop in sales is more reflective of weaker demand and falling copper prices," said Religare Securities

3. Crompton management's decision to reject the offer for the company's international power business also disappointed analysts. "This (decision) casts doubt on the sale of the overseas business, which continues to report cash losses," said Kotak Securities.


4. Crompton also announced top management changes, surprising markets. Crompton CEO and managing director Laurent Demortier was abruptly replaced by KN Neelkant, earlier the CEO of Avantha Power. The management change is effective from February 3.
5. Crompton's consolidated net debt came down to Rs 900 crore as of December 31, 2015 from Rs 1,900 crore as of March 31, 2015, which is a positive. Kotak Securities said the company has managed to reduce debt to the tune of Rs 300 crore by selling some businesses and land, while Rs 700 crore in debt has shifted to the demerged consumer business.
PhillpCapital maintained its "sell" rating on Crompton (target Rs 160). Kotak Securities, which has a "reduce" call on the stock, suspended its rating on Crompton.
Crompton Greaves managed to close off the day's low (Rs 119.55); its shares ended 22 per cent lower at Rs 130.90, underperforming the broader Nifty, which fell 1.3 per cent to end at 7,362.